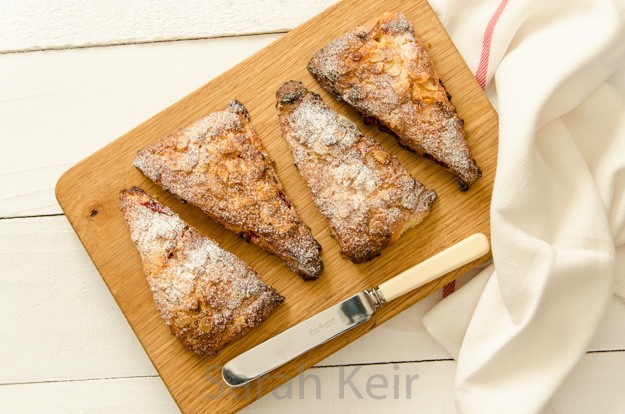 January is the month in the year when I go through my cupboards. Clothes I haven't worn for several years go to the charity shop or eBay and the same for food; any food that is getting near its use by date or just been sitting there or been in the freezer for more than 6 months gets used up. It leads to some odd collections of recipes. What can you do with Christmas puddings except eat them as Christmas pudding? I also had a lump of marzipan left over after the Christmas cake had been iced and the stollen was made. Now, I just love marzipan and would be quite happy just to eat it in chunks or dip it in chocolate or, if I had time, make some marzipan fruits but then that wouldn't be a baking recipe to put on this site. So I found a recipe in which marzipan was mixed into a scone dough but to cut through the cloggying sweetness of the marzipan, I added a layer of frozen raspberries to my recipe (also in need of using up). The finished scone is more like an American shortcake, in that it is rich enough to not need any other adornments though clotted cream would not go amiss with any scone type recipe. Enjoy!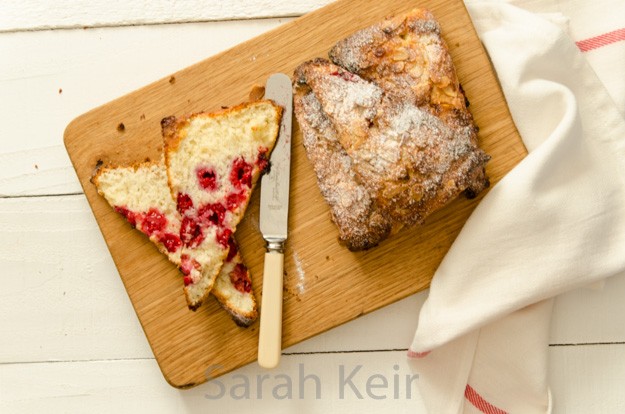 Raspberry Marzipan Scones
120g marzipan
70g unsalted butter
25g caster sugar
250g plain flour
1 teaspoon baking powder
1/2 teaspoon salt
180-200ml of buttermilk or milk mixed with yoghurt
1/2 teaspoon almond essence
120g frozen raspberries (or fresh if in season)
optional – flaked almonds, demarara sugar
Weigh out the butter and marzipan, wrap in cling film and freeze for at least an hour. Once frozen, grate over the top of the dry ingredients. Using a fork, mix in the buttermilk mixed with the almond essence. Add enough so it comes together but do not work too much otherwise your scones will be tough.
Dump the dough out onto a floured work surface and pat or roll to a thickness of about half an inch/one centimeter. It is easier if this is a rectangle that is two-thirds deep to long. Pat the raspberries over one half of the width but for the full length and then fold over the over half that hasn't got the rasberries over the top. Gently pat/squidge together so you have a long narrow sandwich of dough with the raspberries in a layer in the middle.
Cut the dough sandwich into squares then the squares into triangles and place them on a baking tray lined with baking parchment. Brush the tops of the scones with milk and then sprinkle over flaked almonds and demarara sugar. Put in the fridge while the oven heats to 200 ºC or 180 ºC fan. Place the scones into the middle of the preheated oven – they need about 15 -20 minutes but watch them like a hawk because the marzipan will burn easily and will then taste bitter (mine were almost too brown). Cool on a baking wrack. They are best served warm from the oven but can be reheated for a few minutes in a medium oven to revive them over the next couple of days.