I feel this recipe is a little like cheating as it is so easy to throw together and then it is cooked in the microwave for a super quick treat. No steaming involved. AND it freezes very well so you can also have a luscious dessert at the ready! I have no idea where this recipe came from – it is hand written in my recipe collection that I started when I was a student. I use plastic pudding bowls for this recipe. I have a collection of various sizes from when I have purchased sponge or steam puddings in the past and some come with plastic lids. So in future don't throw those bowls away – they are useful.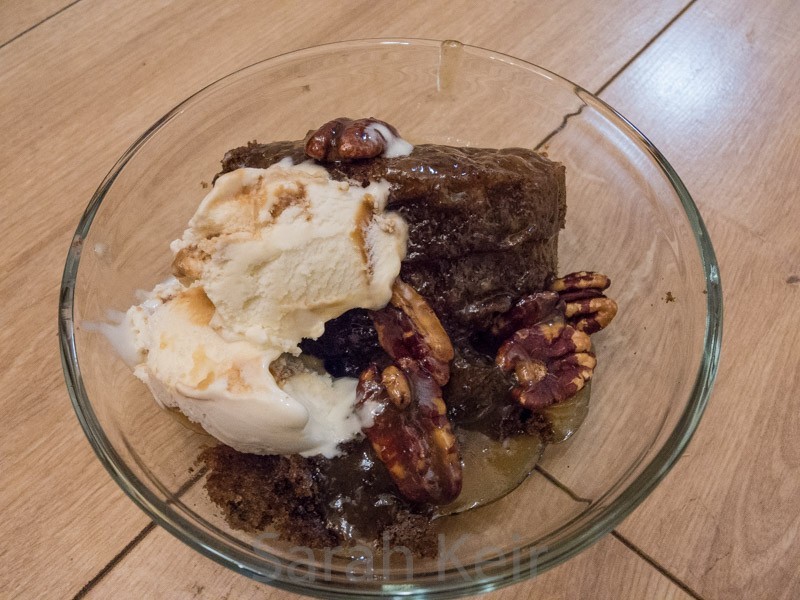 Sticky Toffee Puddings
Serves 8
175g stoned dates, finely chopped by hand or food processor
1/2 teaspoon vanilla extract
2 teaspoons of instant coffee granules (or if none in the house, use hot coffee instead of water for soaking the dates)
3/4 teaspoon bicarbonate of soda
75g soft butter
150g caster sugar (golden if available)
3 medium eggs, beaten
175g self-raising flour, sifted
For the sauce:
25g pecan nuts, toasted and chopped
175g soft brown sugar
110g butter
6 tablespoons of double cream
Put the chopped dates in a bowl and pour over 175ml boiling water. Add the vanilla extract, instant coffee and bicarb and leave to one side. If you don't have any instant coffee then use freshly brewed coffee instead of the boiling water but make sure it is scalding hot.
In a large bowl, cream the butter and sugar until pale and light. Gradually add the eggs a little at a time. Fold in the sifted flour and then the wet date mixture. A very sloppy mixture is normal.
Pour the batter into lightly oiled containers – either ceramic ramekins or the plastic tubs that bought sponge puddings come in. Make sure they are no more than half full! Cover loosely and microwave on high for 2-4 minutes, depending on the size of the pudding bowls.
Take out and leave to cool for a few minutes.
Make the sauce by combining the sauce ingredients in a pan and gently heating until the sugar has dissolved then bring to the boil.
Serve by turning out the puddings onto a heat proof tray. Preheat the grill to high and have a shelf at a level that the puddings will fit underneath. Pour the sauce over the top of the puddings, knock off any nuts off the top of the puddings (otherwise they burn), put under the grill until hot and bubbling. Serve immediately with ice-cream, cold pouring cream or custard as your fancy takes you.