Here is another recipe that uses up eggs. Can you tell that we have an egg glut at the moment? I also didn't realise that chickens love rhubarb leaves. I wonder if it makes the eggs taste of rhubarb? Anyone noticed? Rhubarb leaves are supposedly toxic due the high levels of oxalates they contain, but either birds excrete oxalates in a different way to mammals or the chickens are slowly poisoning themselves. I have had to resort to netting the plants to prevent the chickens getting to them; for their sake and the poor rhubarb plants!
This recipe is delectable, especially enjoyed on a lovely sunny evening like today. It tastes like rhubarb and custard in the most unctuous, dreamy state imaginable. Once served, it is cold but not icy like ice cream can be; all the better for taking large bites of. I like to serve this dessert with roasted rhubarb. Roasting the rhubarb means it keeps it shape and dries it slightly so it is not soupy like stewed rhubarb can be. Cut the rhubarb into 2cm lengths, lay single depth on a roasting tray or dish, sprinkle with caster sugar and roast in a medium oven for about 20-30 minutes. Enjoy!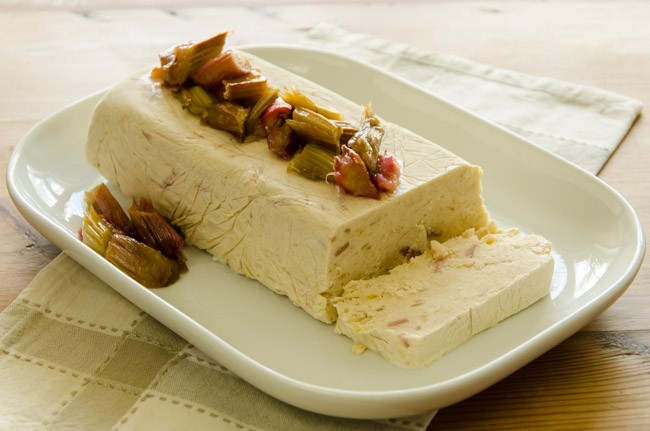 500g rhubarb 120g caster sugar 2 egg yolks 2 tablespoons elderflower cordial 250ml double or whipping cream   Chop half the rhubarb finely and add to a pan with 100g of caster sugar plus the elderflower cordial. Bring to simmer and with lid off cook until very soft. Puree with potato masher or hand blender or pushing through a sieve. The other half of the rhubarb cut into 2cm lengths and arrange in singe layer on a baking dish, sprinkle with couple tablespoons sugar, cook in oven until soft (about 180 C for 3o-40 minutes). Leave to cool and then store in a ceramic or glass dish in the fridge until ready to serve the semifreddo. Make the sabayon base: in bowl over a pan of gently bubbling water, whisk the egg yolks and 20g caster sugar until light and fluffy and pale. They should triple in volume. Take off heat and allow to cool. In another bowl whisk the cream to soft peaks then fold in the pureed rhubarb and sabayon. Line a 2 lb loaf tin with two layers of cling film. Pour in the creamy mixture. If you have left over meringues or almond biscuits, crumble over the top. Fold over the cling to seal the surface of the semifreddo and place the tin into a carrier bag. Put in the freezer for at least 4 hours, ideally over night. When you want to serve, put the tin in the fridge for half an hour, turn out onto a plate and serve with the roasted rhubarb.