Biscotti really just means 'twice baked biscuit' in Italian, and are otherwise known as cantuccini, or 'coffee bread'. Biscotti is now taken to loosely mean just any biscuit in Italian so really these should be called cantuccini (if small in size) or cantucci (if larger) though I am sure everyone knows them as biscotti. Originally from Prato in Italy, there are versions from other regions of Italy and even from Spain where they are called carquinyoli. Since they are very dry, they are usually served with a drink; vin santo in Italy and coffee elsewhere in the world. But don't let that stop you enjoying them at other times. I am very partial to them dipped in ice cream or a creamy dessert like rhubarb fool.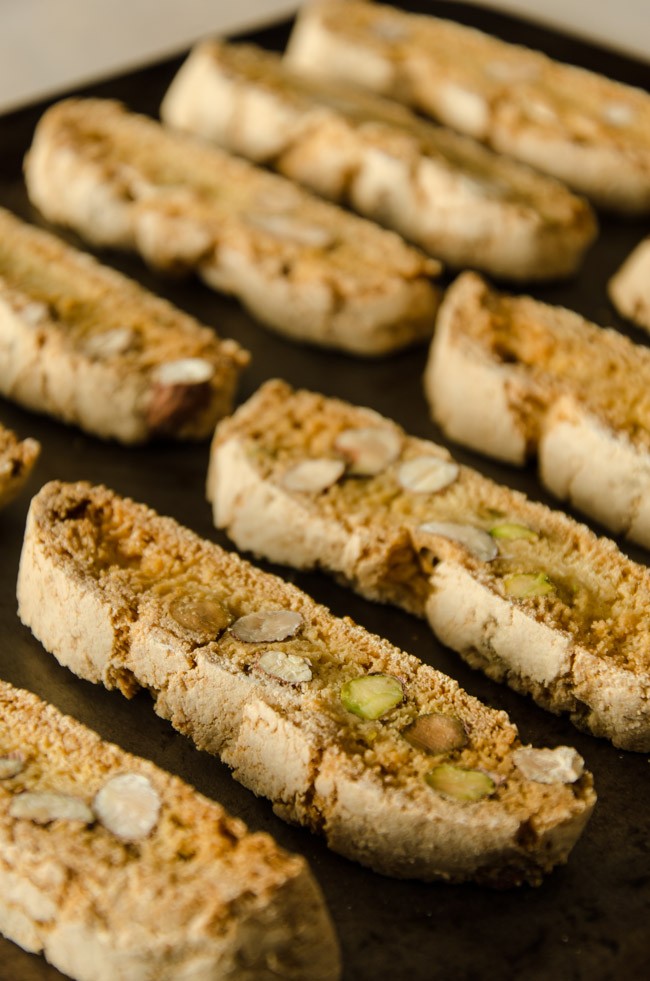 I cannot believe that in some chain coffee shops they charge £1 or more for some small slice of at most 3 mouthfuls. I can make a tin full for same amount. I supose that must be by thrifty Scottish side coming through. They are also rediculously easy to make and last for ever (well, as long as you can resist eating them) as they are completely dried out.
Recipe from Nigella Lawson 'Feast'. Easily doubled and they last for ages so you can never have too much.
Cantuccini
1 large egg 100g caster sugar 1/2 teaspoon real vanilla extract few drops of almond essence (optional) 125g plain flour 1/2 teaspoon baking powder pinch salt 75-100g nuts – natural almonds in skins, pistachios, hazelnuts, even chocolate chips   Preheat oven to 180 °C/fan 160 °C. Line a tray with baking parchment. Whisk the egg and sugar until pale and moussily thick so leaves ribbon trails from the whisk. Beat in the vanilla and almond flavourings. Fold in the flour, salt and baking powder and when all combined mix in the nuts/chocolate. The dough will be a soft, slightly wet but soft mixture. Using floured hands, bring the dough to a ball and then shape into a rough loaf like shape on the lined baking tray, so roughly 25 x 5cm. Cook in the preheated oven for 25 minutes, remove and allow to cool for 10 minutes or so. Using a serrated bread knife, cut the log into diagonal slanting slices of about 1cm thickness to give the characteristic finger-like pieces. Lay the slices on the tray and cook again for another 10 minutes, turn them over and cook for another few minutes. Let them cool entirely on a rack before storing in an airtight container.