Oh no, I've done it again! Despite this supposing to be a blog about baking, the recipe this week is again a non-baking one! Never mind, we all have busy weeks don't we? And don't these little nests look so retro and kitch? I think I must of been about 10 when I last had one but this time I made them grown up with a good proportion of dark chocolate. But don't feel obliged to get out the expensive 70% plus coco solids chocolate. No, these were made with a cheapish bar of Cadbury's Bournville with some milk chocolate I had kicking around in the cupboard for added sweetness. So they are frugal and yummy – a smashing combination do you not think?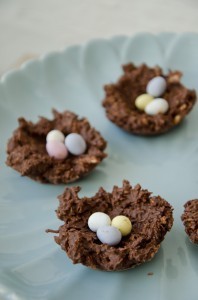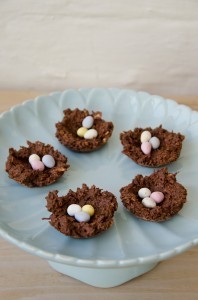 300g chocolate (any combination of dark and milk)
25g unsalted butter
100g shredded wheat breakfast cereal
little chocolate eggs in colourful sugar shells
mince pie tin
Melt the chocolates and butter in a bain-marie or carefully in the microwave. Crumble the shredded wheat into another bowl. Once the chocolate/butter is melted, stir into the shredded wheat. Divide into 12 among the mince pie holes and gently press the middle of the mound to form a depression to hold the eggs. Put the nests somewhere cold until set then flick them out of the mince pie tin with a knife and add the little eggs. Voila!