Though the weather today is the opposite of spring-like, I felt like making some lemon curd. The silky smooth texture with a fresh zingy flavour and eye-popping yellow colour sort of sums up Spring. I hope the sun comes soon! This was my first attempt, by the way, and I am very pleased with the result.
Makes about 700g or 3 small jars and a little left over.
Grated rind and juice of 4 ripe unwaxed lemons
4 eggs, beaten
125g butter cut into small pieces
350g caster sugar
Place all the ingredients in a pyrex bowl over gently simmering pan of water (picture 2). Stir until the sugar is dissolved and the butter melted.
Continue to heat gently for about 20mins until thickend and coats back of a spoon (image 3).
Strain and pour into sterilised jars. Done!
Keeps for a few weeks in the fridge.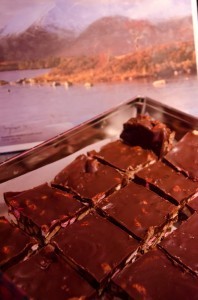 While the curd was thickening, I threw together a batch of rocky road (melt 125g butter and 300g dark chocolate and 3 tbsp of gold syrup, add 200g crushed biscuits, 100g mini marshmallows and any dried fruit or nuts that need using, press into tin, refridgerate).
Update 15/9/13 – made the lemon curd for the show using this recipe but reduced the sugar to 300g and added half a teaspoon of real lemon extract. This made it super zingy and so super nice.