I was unsure whether or not to give paprika its own entry in the 40 spices line up. The reason being that there is no clear distinction between paprika and ground chilli; both are made from ground dried Capsicum annum varieties. I suppose the biggest difference would be in the heat level and therefore the usage of the spice, but even then there is great overlap; ranging from mild and sweet to hot and fiery. Although paprika is most often associated with Hungarian and central European cuisine (goulash and such like), it is also widely used in Spanish cooking where it is known as pimentón and this is where my favourite paprika comes from. Pimentón de la Vera is dried over smoking oak logs that impart a deep smokey flavour and aroma to the paprika. And of course, the delicious and versatile chorizo sausage is flavoured with Spanish pimentón.
This Spanish dish is lovely as a simple one pot supper served with a green salad, or as part of a tapas type spread. This amount made enough for dinner for 4 people. I adapted this recipe from Sophie Grigson 'Spices'.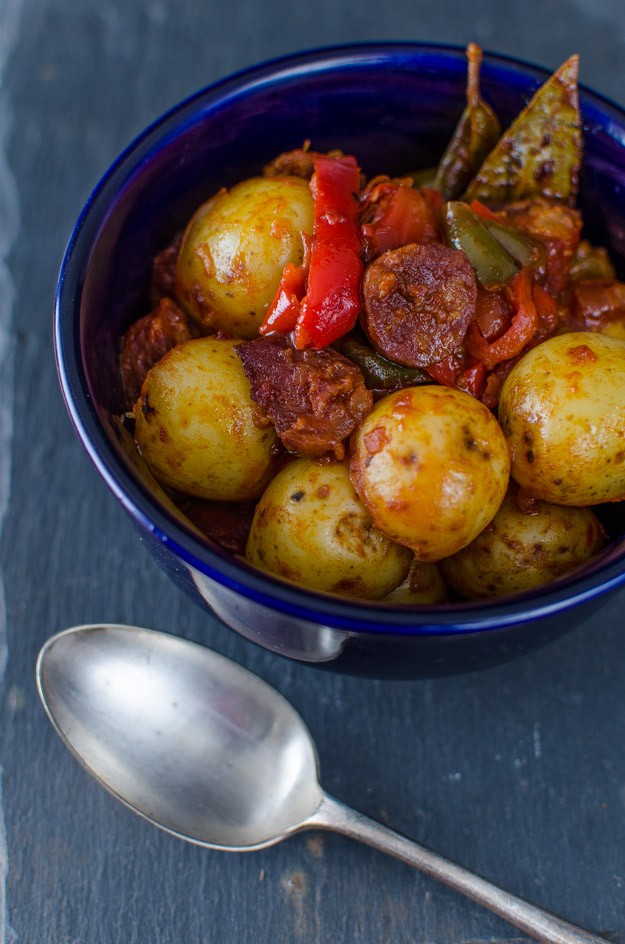 Potatoes with chorizo – Patatas a la extremeña
  2 tablespoons olive oil (not extra virgin as the flavour will be overwhelmed) 250g chorizo sausage from a ring (not the ready sliced, ready to eat type), skinned and roughly chopped 1.5kg waxy potatoes cut into medium chunks (I used new potatoes) 2 onions, sliced into thin half moons 1 red pepper, cored, deseeded and sliced 1 green pepper, cored, deseeded and sliced 3 garlic cloves, peeled and crushed 1 tablespoon smoked pimentón (I used agridulce – medium hot) 2 bay leaves seasoning   Heat the oil in a large heavy bottomed pan. Add the chopped chorizo and fry until oil is released. Add the onions and season with salt, cook gently until translucent (about 15 minutes).  Add the rest of the ingredients with enough water to just come up to the top of the potatoes. Bring to the boil and simmer gently until the potatoes are cooked (about 20-30 minutes depending on type and size). The juices should of almost completely disappeared. Taste and adjust the seasoning. It is ready to serve straight away but it also reheats very well the next day.