This recipe is one of those which turns out to be much greater than the sum of all its parts. It is ridiculously moist, homely yet in fashion, chewy but light. You can glam it up with decoration or leave it rustic and plain. Bake in a round tin or rectangular, this cake never fails me in the bake or others in the tasting.
Many people don't like nuts so I use sultanas in my version which add texture and some sweetness. Feel free to change back to nuts; walnuts are traditional. It keeps well as it is an oil based cake, but the icing will only keep for a day or so at room temperature, depending on how hot it is!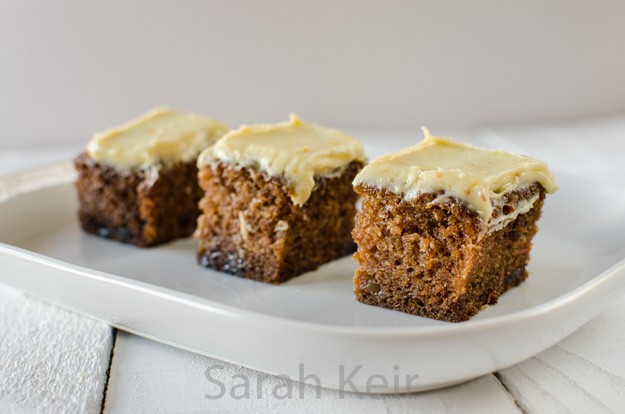 Passion Cake
For the cake:
175ml vegetable oil, flavourless
200g caster sugar
3 eggs
1 teaspoon vanilla essence
100g sultanas
200g carrots, grated coarsely
150g plain flour
1 teaspoon bicarbonate of soda
1 teaspoon baking powder
1 teaspoon each of cinnamon and mixed spice
1/2 teaspoon salt
For the topping:
75g cream cheese or ricotta or quark
50g softened butter
1/2 teaspoon vanilla
finely grated zest of 1 orange
100g icing sugar
Prepare a tin by lining the bottom with parchment paper and greasing the sides. Either a 22cm round tin or a 20 x 30cm rectangular tin, or muffin cases (about 12). Preheat the oven to 180ºC/ 160ºC fan.
Beat the oil, sugar, eggs and vanilla in a jug.
Put the dry ingredients into a large bowl, add the grated carrots and wet mixture. Beat well until mixed.
Pour into the prepared tin and bake for about an hour for the large tins, half an hour for individual muffins. Allow to cool in the tin for 10minutes before turning out to cool completely on a cooling rack.
To make the topping, put the soft butter in a bowl and beat until smooth. Add the cream cheese (which should be cold from the fridge) and vanilla and orange zest and beat until smooth. Sift over the icing sugar and beat until all incorporated. This topping is soft and cannot be piped; look at my other recipes if you need a topping that can be pipped.