The start of Spring means marmalade making time. The required bitter-sweet Seville oranges are only in the shops for a short time around about now so I always buy a bag when I see them before they disappear again. They bring bitter-sweet thoughts of places that are currently sunnier and warmer than this grey cold British start to Spring. But the sparkling bright orange jelly and tangy orange peel warm any breakfast.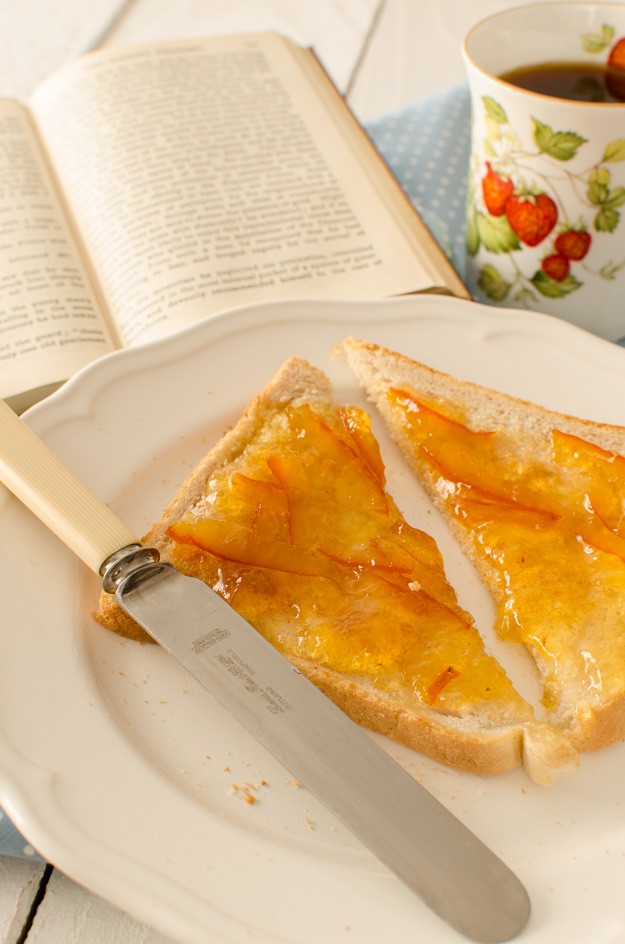 It is a pain hand cutting the peel but there is no way round that; using a food processor just leaves mush, even a mandolin failed. The acid in the oranges also makes the skin of your hands go all pruney! But there is no way round it, so stick on some music and get down to work. Orange or other citrus marmalade seems to be a uniquely British product. I do not recall seeing it in any of the countries I've been to around the world. But a certain bear from deepest darkest Peru was rather fond of the stuff!

Marmalade
Recipe from 'The National Trust Good Old-Fashioned Jams, Preserves and Chutneys' by Sara Paston-Williams
Makes approximately 6 jars.
1kg Seville oranges
1 lemon
2.4 litres of water
2kg granulated sugar
Wash the oranges well as the rough skins are prone to be dirty. Cut them in half (plus the lemon) and juice them, reserving the pips. Scrape out the pith (white bits and membranes inside the oranges) and also reserve with the pips. Then shred all the rind fairly finely.
Place the shredded rind, juice and water in a large saucepan and bring to the boil. Boil for about 2 hours until the rind is very soft and disintegrates when squeezed.
Heat the sugar in the oven and when the rind is soft enough, add to the pan. Then use the oven to sterilise half a dozen jam jars and lids.
Tie up the pips and pith into a muslin bag and add to the pan. Gradually stir to dissolve the added sugar. Once the sugar has been added, increase the temperature and bring the mixture to a rolling boil. Boil briskly, stirring frequently so it doesn't catch on the bottom, for about 20 minutes before starting to test for the set. Once setting point is reached, take the pan off the heat, remove the muslin bag (squeeze well to get the goodness out), skim off any froth and allow the pan to sit for a good 15 minutes. Stir well before potting and stir while potting to evenly distribute the peel.