I made these to go with the cheese board over Christmas. If you know me, you how much I love cheese. But now I have found a recipe for crackers that are good enough to eat in their own right rather than just being a token apparatus to get cheese to the mouth!
The original recipe is here on 'theKitchn' and seems to be very adaptable and forgiving. I don't normally cook by cup measurements as it doesn't seem accurate enough for baking (and I don't own a cup measure) but I used a small plastic cup as the measure and got stuck in. The recipe is based on soda bread. I shoved in some dried apricots and a mix of nuts and seeds as I didn't have enough of any particular one and the only brown flour I had in the house was strong bread flour. AND they still came out fantastic. I still have one of the loaves in the freezer for another round of crackers when I feel like it! Brill!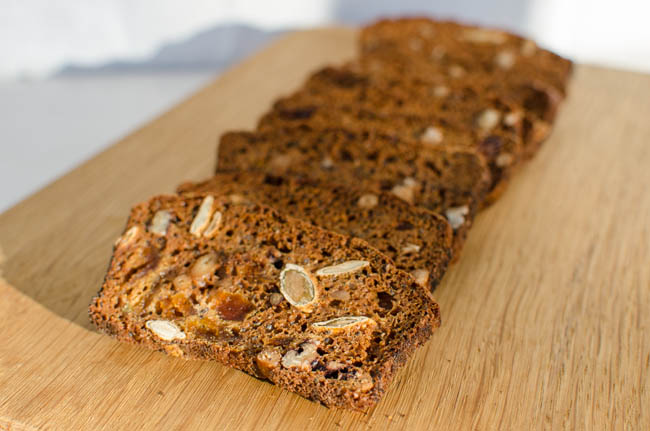 1 cup dried fruit e.g. cranberries, apricots, dates, raisins 3/4 nuts e.g. pecans, walnuts, hazelnuts 1/2 cup mixed seeds e.g. pumpkin, sunflower 1 cup plain flour 1 cup whole wheat, rye, spelt or other whole-grain flour 1/3 cup soft brown sugar 1 tablespoon herbs e.g. rosemary or thyme 2 teaspoon bicarbonate of soda 1 teaspoon of salt 2 cups milk with 1/2 teaspoon of lemon juice added, leave for 10 minutes   Preheat oven to 180 °C or 160 °C if fan. Grease two loaf tins. Place the dried fruit in a small bowl and pour over very hot water from the kettle. Allow time to plump up while you get the other ingredients together. Toast the nuts in the oven until golden brown and fragrant and then roughly chop. Set aside. In a large mixing bowl, whisk the flours, herbs, bicarbonate of soda, salt and sugar. Pour over the buttermilk and stir together with a spatula until no dry mixture remains but do not continue mixing beyond this. Drain the dried fruit and if using a large fruit such as apricots or dates, roughly chop. Add the fruit with the nuts and seeds to the batter, stir gently to mix. Do not be worried if your batter look very liquid at this stage. Divide the batter evenly between the two loaf tins, place on a baking sheet and put in the oven for about 30 minutes, until a skewer comes out clean. Remove the cakes from the pans and allow to cool completely on a cooling rack. Then wrap in cling or greaseproof paper, put in a freezer bag and pop in the freezer until you are ready to do the next stage, but they need to be frozen for at least 4 hours before they are firm enough to cut thinly.   When you are ready to turn the cakes into crackers then preheat the oven to 150° C. Remove one of the loaves from the freezer and unwrap. With a very sharp knife, slice  as thin as possible. Lay the slices out on baking trays so they are one layer thick. Bake the slices for 15 minutes, turn the slices over and continue cooking for another 10 minutes or so. They should now have turned a darker colour, be starting to curl at the edges but not blacken. Do not worry if they are still a little soft in the centre as they will firm up when you cool them on a cooling rack. Store in a airtight tin until ready to be eaten.