I have been lusting after a truly chocolatey cake for a few weeks after tasting some rather disappointing imitations (or 'brown cake' as I call it). And this cake hit the spot. Unfortunately I made it for friends at work so I couldn't cut into it to show you what it looked like inside but believe me, it is a gorgeous pink creamy pillow. This cake eats like a dream – powerful chocolate flavour, not too sweet with a creamy centre and the tartness of the raspberries cutting through the richness.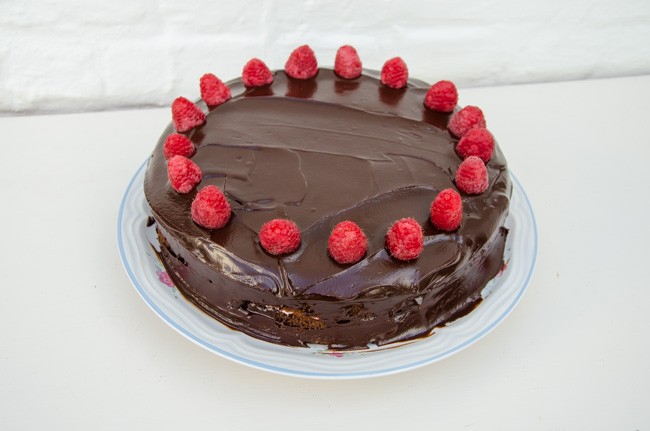 Chocolate Raspberry Cake
FOR THE CAKE 150ml milk 1 tablespoon of butter 1 teaspoon vanilla extract 3 eggs 200g caster sugar 175g plain flour 3 tablespoon good quality cocoa 1 teaspoon bicarbonate of soda   FOR THE FILLING 150ml double cream 150g raspberries   FOR THE GANACHE ICING 120ml double cream 120g good quality dark chocolate, chopped finely 1 tablespoon golden syrup 15g butter 125g raspberries   Preheat the oven to 180 ºC/fan 160 ºC. Grease and line a 23cm springform tin. Pour the milk into a small saucepan with the butter and heat until warm and melted. Add the vanilla. Whisk the eggs and sugar until very light and thick (ribbon trails). Pour in the milk mixture, whisking all the time. Sift over the dry ingredients and carefully fold in until no trace of flour lumps remain.  Pour into the tin and cook for 20-25 minutes until light and springing in the centre. Allow to cool in the tin for 15 minutes then finish cooling on a wire wrack with a tea towel over so it doesn't dry out. The cake must be completely cool before filling and icing. It can be made 24 hours in advance but no longer than that as it will dry out. Make sure it is well wrapped in baking parchment then a carrier bag. Split the cake in half. Whip the cream until thick but not stiff. Add in the raspberries, crushing them against the side of the bowl to release the juices so you get a wonderfully mottled pink mixture. Sandwich the two halves of cake with the raspberry cream. To make the icing, place the cream, chocolate, syrup and butter in a glass bowl over a pan of simmering water ( a bain marie) and heat until it looks like the chocolate is half melted. Take off the heat and with a spoon beat until smooth. Leave to cool long enough so it thickens (it took mine about 30 minutes at UK summer temperatures). Pour and spread the ganache over the filled cake. Decorate with the raspberries. Do not refrigerate this cake and eat within a few hours.