A madeira cake is ideal for celebration cakes as it is firm and moist and makes a good base for carving, icing and decorating. Glycerine can be added to the recipe to improve moistness on keeping but I haven't tried this and would not recommend keeping this cake for more than a week even when iced. You want the cake to taste good as well as look good!
This is the recipe I used for my poppies cake for the 2014 Wigginton Show. Although the judges didn't cut it or taste, I can verify that the cake was still moist and tasty 5 days after I made it and 4 days after it was iced.
I really enjoyed making the sugar paste poppies; I enjoy taking on a new challenge, researching the project and seeing how it turned out. My initial thought was for a bunch of roses with some other flowers and leaves but quickly realised that this was over ambitious in the time I had. When I was thinking about a single type of simple flower that looks good on its own, there was a flurry of news reports about World War One so this was an easy decision – a simple flower and a topical subject! I unfortunately don't have photos of how I made the flowers to show you but I used two online tutorials – this one and this one. I didn't have a veiner so I gently impressed the back of a knife into the petals when they were on the foam mat.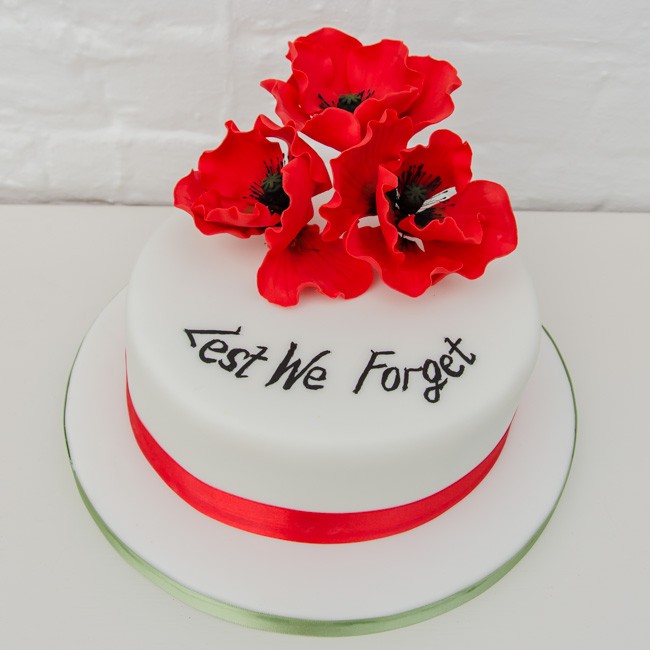 8″ (20cm) round Madeira Cake
Ingredients
375g plain flour
1½ teaspoons baking powder
315g caster sugar
315g unsalted butter
good pinch of fine salt
5 medium eggs, cracked and beaten individually
1 teaspoon vanilla extract or zest of 2 lemons
3 tablespoons of milk
Method
The eggs and butter need to be at room temperature before you start. Line the 8″/20cm loose bottom or springform tin with baking parchment. Around the outside of the tin wrap and secure a good thickness of newspaper – this helps the cake bake more evenly and helps avoid a domed top.
Cream together the sugar and butter until very light and pale. Add the beaten eggs one at a time with a spoonful of flour between each one to prevent curdling. Then mix in the vanilla. Sift over the flour, baking powder and salt and fold in with a metal spoon. Add enough milk to make a soft dropping consistency; you may not need it all. Alternatively, after creaming the butter and sugar, dump in the eggs, milk and sift over the dry ingredients and use an electric mixer and beat for 1 minute only.  Add any flavourings if wished and for the final mix use a rubber spatula to make sure all ingredients on the bottom and sides are incorporated.
Place the mixture into your prepared greased and lined tin. Smooth the top with a spatula, make a shallow depression in the centre and give the tin a sharp tap to remove any air pockets.
Place the cake tin in the centre of a pre-heated oven 160°C (fan 140 ºC) for 1½ to 1¾ hours.  I always add a tray of water in the bottom of the oven whilst baking to add more moisture to the cake. The cake may take up to 2 hours to bake but if it looks like it is browning on top before the middle is done then make a foil hat with a small hole in the middle for the steam to escape. Allow to cool completely in the tin.
You can flavour the cakes with a lemon mixture which is poured over the baked cake whilst still warm and still in the tin, but first make small holes in the cake using a long wooden skewer to allow the mixture to pour through.
Buttercream Icing
Enough to fill and cover an 8″/20cm cake – if doing as a cake crumb layer then final icing I think you need a bit more than this but this amount is adequate if covering with fondant after.
Ingredients
150g unsalted butter
250g icing sugar
1/2 teaspoon vanilla essence
1 tablespoon milk
Make sure the butter is very soft but not melted; beat for a minute so smooth and soft.
Gradually beat in the icing sugar, sifting it over the butter. Add the vanilla essence and milk at the end to form a smooth icing.