Last month, I made my first ever wedding cake! It was a monster of a cake with 4 tiers in the main cake (12″, 10″, 8″ and 6″) and an extra 10″ to feed 150 people! I am immensely proud of my cake and that I didn't get into a strop about any set backs (there weren't many as I'd planned it like a military operation). It did, however, take a lot longer than I had anticipated, over 28 hours in total: about 8 hours planning, researching recipes, typing out shopping lists and timetables, shopping online for ingredients and sundries then about 20 hours to make and half an hour to assemble at the venue. Wow, the Thursday before the wedding was a 10 hour sponge-a-thon, juggling batter in the oven and cooling cakes out of the oven! But I also learnt a lot as this was my first stacked cake attempt so there were countless hours spent reading about how to use dowels! I also needed to try out new recipes including trying to find a vegan cake that tasted as good as regular cake. The main problem turned out to be trying to make vegan buttercream that didn't separate when I added Amaretto liqueur! I will post these recipes over the coming weeks.
Bottom tier of moist chocolate cake filled with chocolate Swiss meringue buttercream, next tier of lemon sponge with lemon Swiss meringue buttercream and homemade lemon curd, next up a traditional Victoria vanilla sponge with vanilla bean buttercream and raspberry jam and a vegan top tier of almond sponge with Amaretto frosting.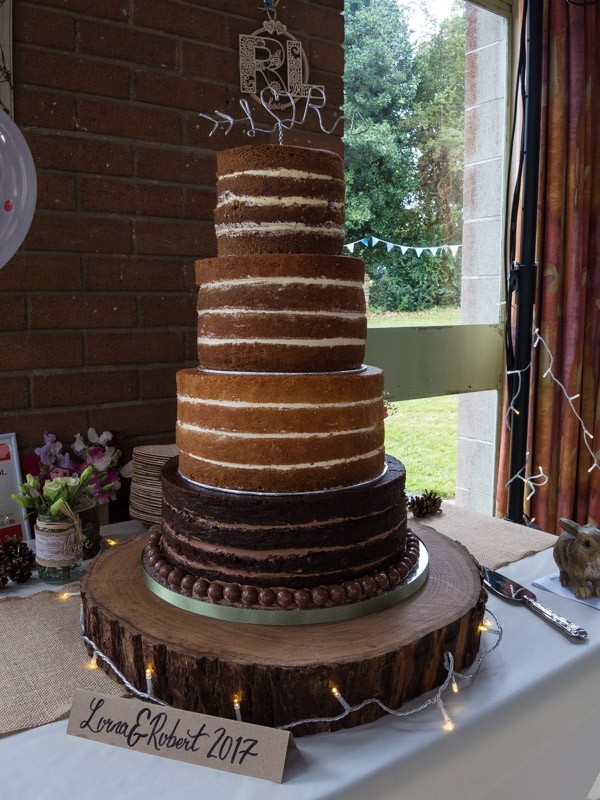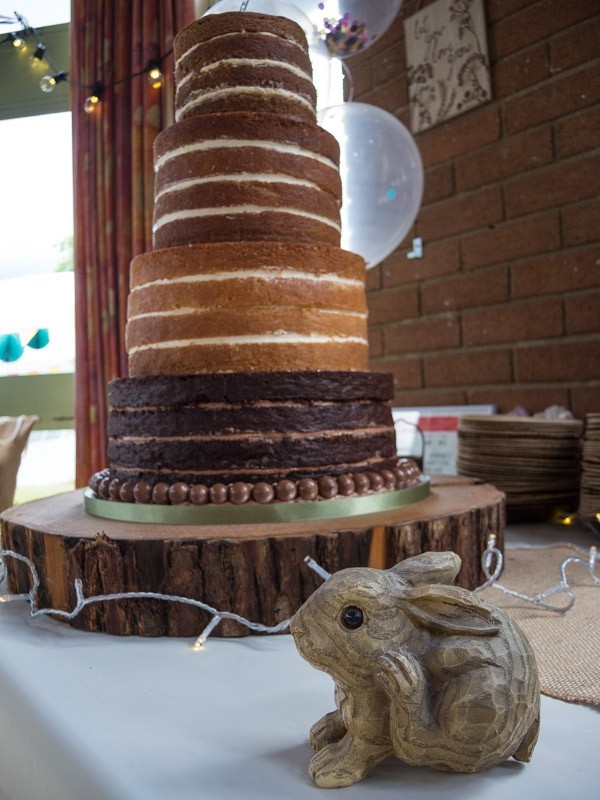 I hate eating fondant with a vengeance and only slight less like working with it so my stipulation to the bride was that it was not to have anything to do with fondant. Luckily, 'naked' cakes are all the vogue at the moment i.e. cakes whose bare sides are completely visible. This, however, brings its own set of issues; the outside of every cake must be perfectly evenly baked and come out of the tins without pulling any crust off and drying out as there is no icing to protect it. The later problem really worried me as no-one likes dry cake and I knew the naked cake would be sitting out for many hours during the wedding on a potentially very hot August day. I can confirm that my measures lead to a moist cake that stayed moist for many day! This was due to making the cakes with butter not margarine, adding a little vegetable glycerine to act as a humufactant (buy in the baking section of the supermarket, made from vegetable oils so not that artificial), making them as close to the day as possible (maximum 48 hours previously) and soaking the sponges with flavoured syrups while stacking the layers. I also used meringue based buttercreams (except for the vegan layer) as these are more stable when conditions are not perfect. I certainly perfected my Swiss meringue buttercream making!
I found the following websites invaluable in this project:
Would I make it again – yes, but I will be charging the going rate next time!