I love real nougat but usually only get to enjoy it at festive times. A couple of weeks ago I had some egg whites left over and felt in the mood for something sweet and decadent and decided to give it a try. The other option was marshmallows but I don't like marshmallow so nougat it was. Nougat is a chewy sweet made with sugar and egg whites with nuts and dried fruit. This is 'white nougat' a traditional candy from Italy ("torrone"), France and Spain ("turrón"), though weirdly in Germany, gianduja (a smooth mixture of hazenuts and chocolate) is traditionally called nougat. So give this recipe a try and make some artisan nougat!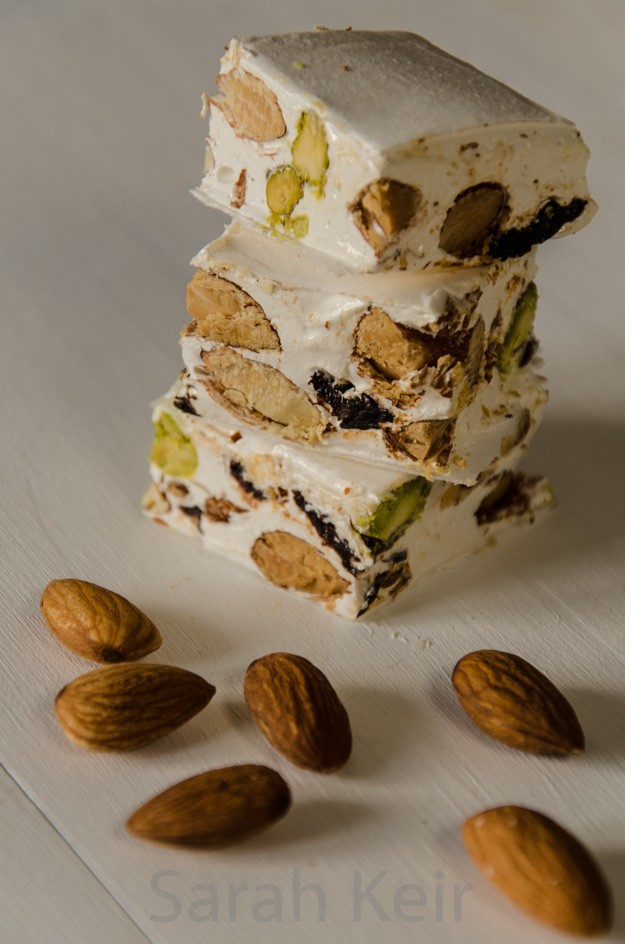 This recipe makes loads of nougat – you could half the recipe if you don't think you could eat it all or give it away. This recipe is a combination of this one from Great British Chefs website and from Miss Hope's Chocolate Box book of splendid recipes.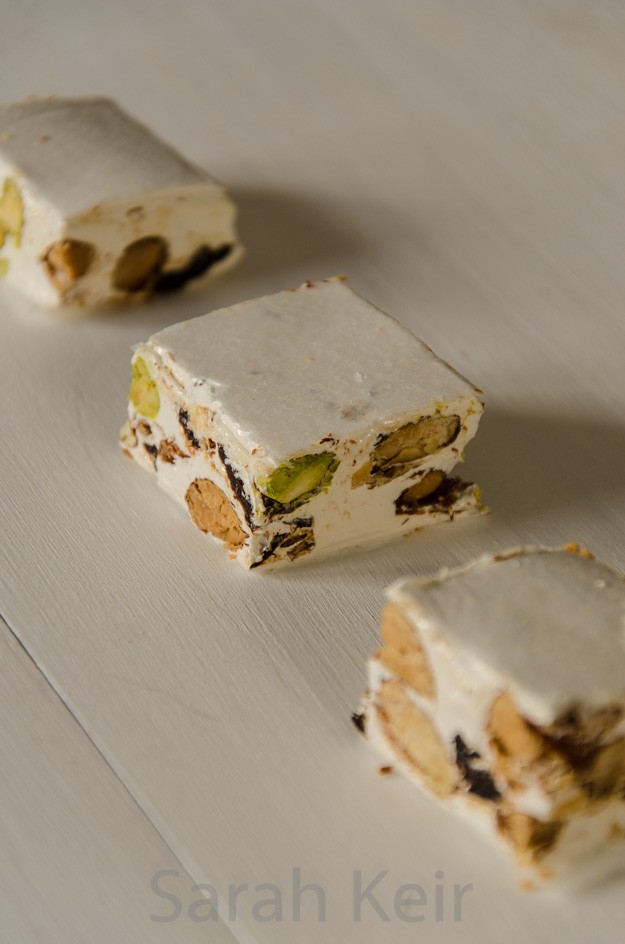 Artisan Nougat
400g caster sugar
100g liquid glucose
125g runny honey
2 egg whites (1 used 3 medium egg whites, about 100g)
pinch of salt
200g toasted whole almonds
40g pistachios
75g dried sour cherries
rice paper
Line the base and sides of a square tin with rice paper.
Put the sugar, honey and liquid glucose in a large heavy-bottomed pan with 125ml water. Heat gently to dissolve the sugar and then place in a sugar thermometer and bring the mixture to the boil.
As water is driven off, the temperature will rise; boil to 125°C.
Place the egg whites in a stand mixer and beat until they form stiff peaks but no further.
Continue to boil until 145°C is reached, then put the mixer onto medium speed and slowly and steadily pour the hot sugar over the egg whites while they are being beaten.
When all the sugar is added, add the salt and turn the speed up and beat for 5 minutes until the mixture is thick and glossy.
Fold in the nuts and fruit then press the mixture into the prepared tin and cover with more rice paper, pressing the mixture so it is level. Alternatively, place between two large sheets of siliconised paper and roll to make an even 2cm thickness. Allow to cool before cutting with a lightly oiled knife. It helps if you clean and oil the knife between each cut.