I bought these quinces a few weeks ago at the Waddesdon Christmas food fair. They had been sitting in the fruit bowl, staring at me, taunting me, 'go on then, you bought me, now cook me'! Everything I read said they were devils to cook; impossible to peel and needing long slow cooking otherwise they would stay rock hard and inedible but that the pleasures would more than overcome any trials in cooking them, in fragrance and flavour.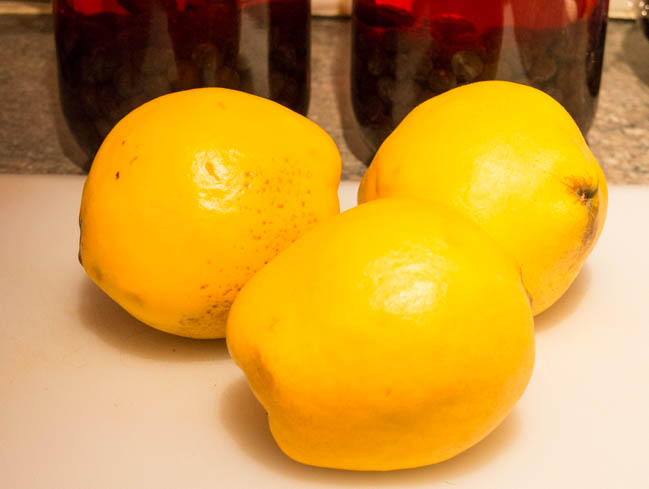 I have to say I am disappointed. I had procrastinated about cooking them for several weeks, waiting for this fantastic aroma that is supposed to emanate from them. It didn't happen so I moved on to cooking with them. They weren't that hard to peel and chop, or at least my birthday present knives, once sharpened, cut then easy enough. Then I poached them in spiced sugar syrup awaiting the transformation into rose red jewels. Instead of the half an hour of poaching they were supposed to need, they were ready in 15 minutes without a hint of pink. So came the tasting and again disappointment, like a pear crossed with an apple. I had such high hopes for them. In the end two out of the three were eaten on my morning muesli.
So we come to the recipe. After leaving organisation to the last minute, I realised on Christmas day that I would need to produce some sort of dessert for the friends coming the next day. I raided the freezer and found a packet of puff pastry and in the fruit bowl a lonely quince and some apples. So we have
French Apple and Quince Cheats Tart
packet of puff pastry, defrosted if frozen 2 eating apples e.g. granny smiths, cored but not peeled 1 lonely quince, peeled and cored 2 tablespoons of soft brown sugar mixed with 2 tablespoons of lemon juice icing sugar fruit jelly e.g. apricot or quince   Roll out the puff pastry to a square about 30 cm on each side and cut in half so two bits about 15cm by 30cm. If it is ready rolled pastry try and find a way of getting the square or rectangle into two lengths that are not too narrow. Place on baking sheets and put in the fridge until ready to cook. Finely slice the apples and quince into a large bowl containing the sugar mixed with lemon juice. Set aside until ready to bake. When you want to bake them, preheat oven to 220 C or 200 C if fan. Take the pastry rectangles out of the fridge and neatly arrange rows of the fruit slices, alternating quince and apple, so that they overlap by about half a slice but leave a clear border of pastry of about a centimetre around the edge. Drizzle over any juices left in the bowl and dust over a thin layer of icing sugar. Place in the preheated oven for about 20 minutes. When they come out, cool on a cooling rack while heating a couple of tablespoons of fruit jelly with a splash of water (in a pan or in the microwave), stir until the jelly has dissolved and then brush over the pastrys with a pastry brush. Serve!  
If you are looking for more inspiration for what to do with quinces then see Nigel Slater, he raves about them.