I apologise for my absence over the past couple of weeks. I have been very busy studying for my certificate exams that were last week. But now they are out the way I should have more time for baking and blogging! It feels like such a relief to get them out the way. At the weekend I had the complete freedom of choice of what to do so I cleaned the house thoroughly on Saturday and relaxed on Sunday. Bliss!
This recipe is another beginning of the year attempt at using up cupboard bits and bobs, a side effect of my food hoarding. I can't remember why I even had tahini in the cupboard, perhaps from a hummus recipe. But though I love hummus, I cannot currently imagine making it as the weather is so cold and the supermarket stuff is pretty good. So these biscuits came about as a way of using up the last bit of tahini in a jar. As usual, this is a combination of several recipes cobbled together but I have to admit they turned out perfectly. They are very short and crumbling with a buttery sesame seed flavour in the background that is not at all over powering but is mystical and mouthwatering. These biscuits did not last long, I can tell you; they didn't even make it as far as my work colleagues. Darn, now I will have to buy some more tahini just to make these biscuits…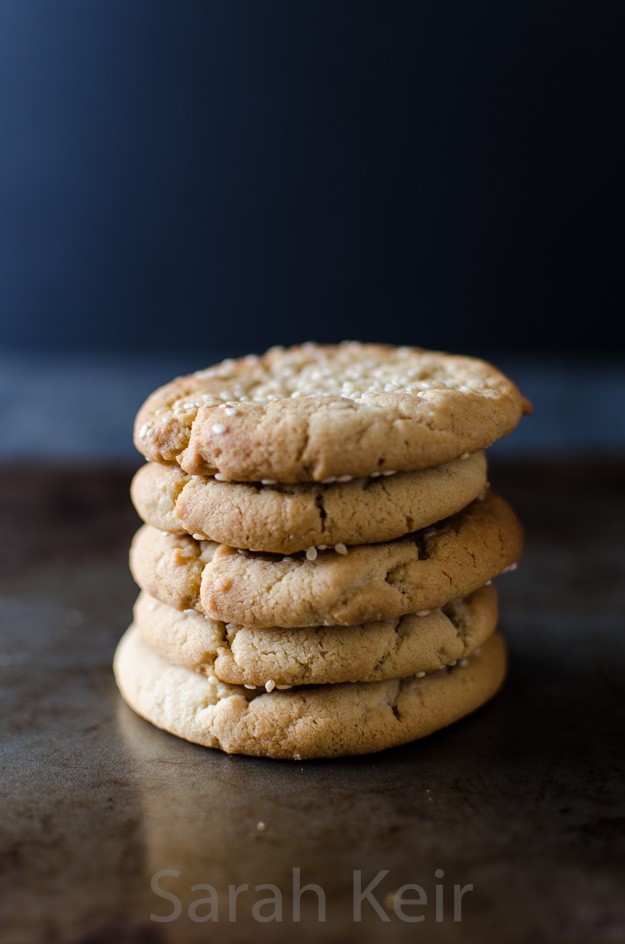 Tahini Biscuits
100g white caster sugar
120g unsalted butter, soft
175g plain flour
1/2 teaspoon baking powder
1/2 teaspoon fine salt
120ml/110g tahini, well stirred
1/2 tablespoon runny honey
1 teaspoon vanilla extract
sesame seeds, for sprinkling
In a bowl, beat the butter and sugar with a wooden spoon. Add the tahini, honey and vanilla and beat in. Add the dry ingredients and bring together to a soft ball. Wrap this dough in cling film and put in the refridgerator for an hour until firm.
Preheat the oven to 170 ºC/150 ºC fan.
Using clean hand, break off small lumps of dough and roll in your hands until roughly spherical. Place on a baking parchment lined baking tray, allowing 2cm/1″ between the balls, and press down gently with your fingers to flatten slightly. Once all the dough has been used up this way, sprinkle the biscuits with sesame seeds and place in the preheated oven for 12-15 minutes. Watch carefully as they brown easily. Allow to cool on the tray for 5-10 minutes before transferring to a cooling wrack to complete the cooling. Store in an airtight container and eat within a week.