Gingernuts must be a uniquely British biscuit. I have not come across them anywhere else in the world (though apparently they love them in New Zealand too) and there is a dearth of recipes in blogger land. For me it is the satisfying snap and pleasing gingery warmth that makes the gingernut such a popular biscuit. It is also a top dunker for a cup of tea as it holds together well. There is no way this is an American style cookie. I am not sure why they are called 'nuts' rather than biscuit but that is the English language for you. There is some suggestion that is because they are as hard as nuts when freshly baked or that the small pieces of dough that are measured out are called 'nuts', but whatever reason they are one of my favourite biscuits.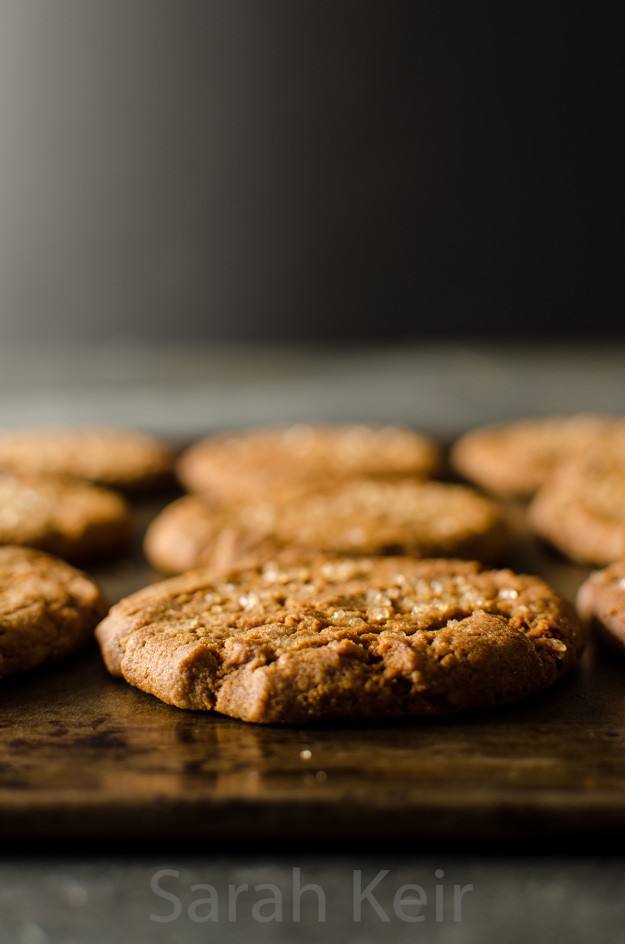 So here is my version. As usual it is an amalgamation of several recipes with my own tweaks. It was very easy to throw together a batch and they are so much nicer than bought biscuits. It is entirely optional if you wish to add crystallised ginger; it is not traditional to add them but I like the occassional chewy gingery nugget that they add to the experience. The gingernuts have lasted for a couple of weeks in an air tight container. If they go soft then put them on a tray in a moderately hot oven for a couple of minutes then allow to cool and they will be as good as new.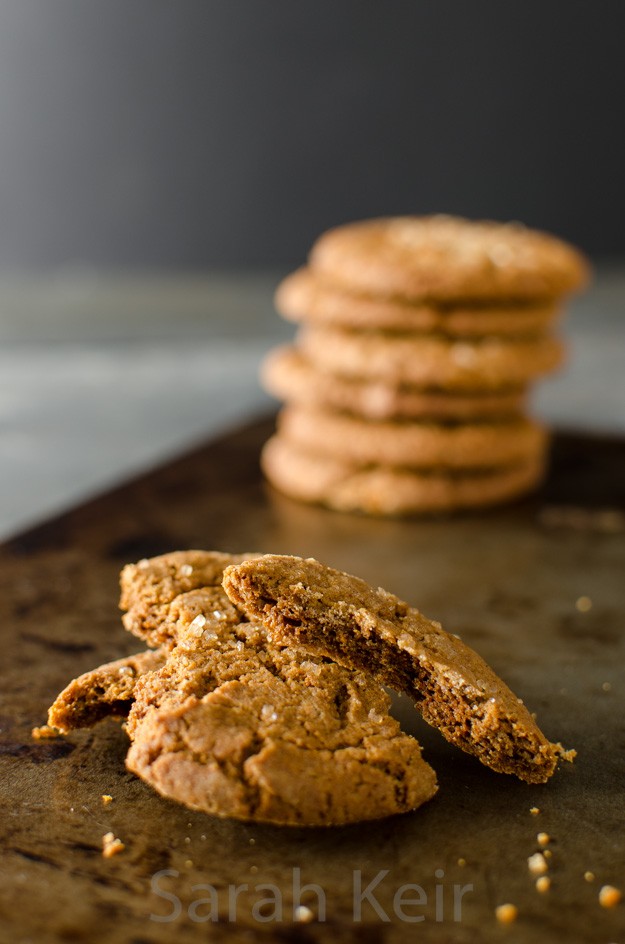 Gingernuts
200g unsalted butter
240g golden syrup
40g treacle
400g self-raising flour
150g golden caster sugar (white if you don't have golden)
3 tablespoons ground ginger (make sure not old or stale)
1 tablespoon ground mixed spice
1 teaspoon salt
1 ½ tablespoon bicarbonate of soda
Demerara sugar (optional)
Crystallised ginger, finely chopped (optional)
Preheat the oven to 160 ºC/140 ºC fan.
Line a couple of large baking trays with baking parchment.
In a small pan, put the butter, golden syrup and treacle and warm over a low heat until the butter is melted.
Meanwhile, in a large bowl, sift together the dry ingredients, excluding the demerara sugar and crystallised ginger.
Once the butter has melted, use a wooden spoon to mix this into the dry ingredients to form a soft glossy dough. Add the finely chopped crystallised ginger at this stage if you wish.
Using clean hands, break off walnut sized lumps of the dough and roll into smooth balls. Place on the prepared baking trays leaving a good 7-8cm (about 2 and 1/2 inches) between each ball. Gently press each ball onto the tray but you don't need to make it very flat – the baking process will flatten it. If you like, sprinkle a little Demerara sugar on top of each biscuit – it makes them pretty but doesn't add to the crunch.
Bake for 20-25 minutes, turning the trays half way through, until they have risen and deep auburn brown. Remove from the oven and transfer to cooling rack to cool completely. Store in an airtight container.