I never used to like cheesecake. I used to find it dense and cloying in the mouth and far too heavy to end a meal. But when we were on the Isle of Wight at Easter time, I tried a baked cheesecake in the local pub and it was sublime; rich but not dense, smooth and creamy. I knew I had to try making this myself.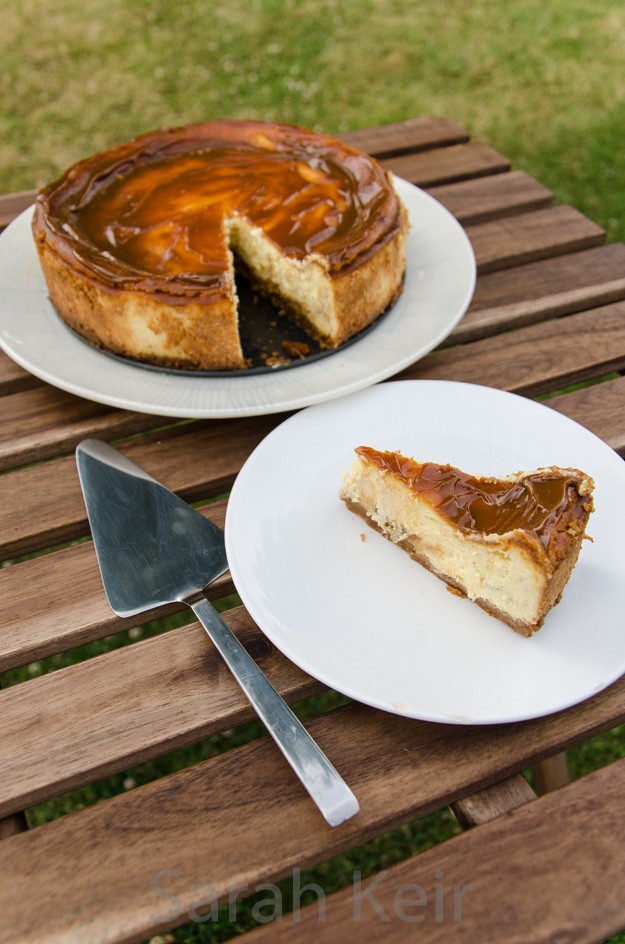 I actually made this cheesecake over a month ago, but low and behold what was on Great British Bake Off this week; baked cheesecakes! I would like to think that mine would have done well against the other contestants. I was certainly please about how it turned out. I have been converted to the joys of baked cheesecake and I hope you are too!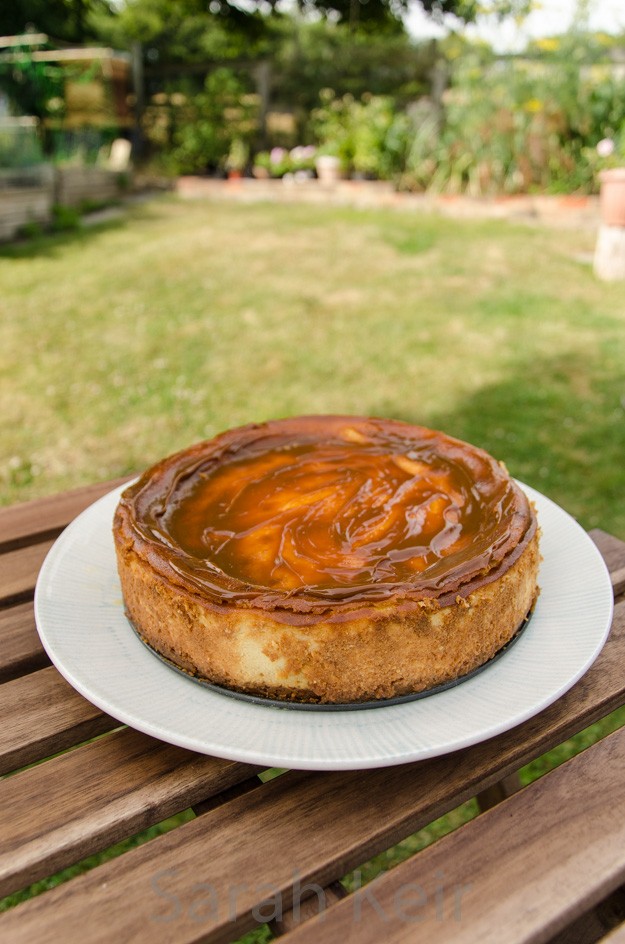 Baked Caramel Cheesecake
Serves 12-14
Many alternative recipes separate the eggs, whisk the egg whites until stiff and fold them in at the end. This probably gives a lighter resulting cheesecake.
250g ginger snap biscuits, crushed to fine crumbs
125g butter, melted
750g full fat cream cheese
150ml sour cream
150ml double cream
200g caster sugar
2 tablespoons corn flour
4 eggs
2 teaspoons vanilla extract
1/2 teaspoon salt
a 400g tin of caramel e.g. Nestle Carnation, I used dulche de leche
Mix together the crushed biscuits and melted butter. Press into a 24cm spring-form pan. Put in the fridge for at least half an hour to set.
Preheat oven to 170 °C/150 °C fan.
In a large bowl, mix the sugar, corn flour and salt then beat in the cream cheese, sour cream, eggs and vanilla. In a separate bowl, beat the double cream until soft whipped and then fold this into the mixture too.
Pour half the cream cheese mixture over the prepared biscuit base. Top with caramel – caramel tends to be thick so just glop small lumps dotted over the top and then use a knife to swirl it through. Pour over the remaining cream cheese mixture.
Place on a baking tray and cook for 1 to 1 and half hours until the cheesecake is golden brown on top and just set (slight wobble still). Run a knife around the edge of the cheesecake and pop back in the oven. Turn the oven off, prop the door slightly ajar and leave the cheesecake to sit for another 2 hours at least; overnight is fine. Unmold from the spring-form pan and place in the fridge for another few hours until set. Spread some more caramel over the top and the cheesecake is ready to serve!