The lovely yellow colour and gentle spice warmth of this recipe brightens up the these cold Spring evenings. Just don't dribble the juice down your favourite top as it will stain. You have been warned!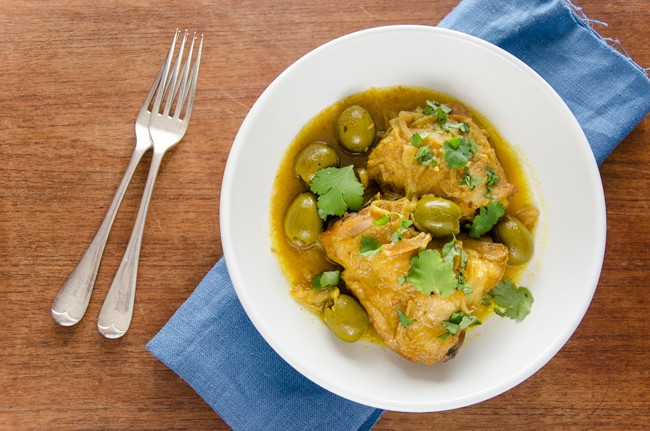 I almost always have a jar of homemade preserved lemons in the cupboard. I make it from the lemon skins left over from pressing the juice from other recipes, such as elderflower champagne or lemon curd, so it is practically free rather than the very overpriced and over coloured jars in the supermarket. But feel free to use what ever preserved lemons you have to hand. Even a quick trip to Marrakesh to pick some up is quite alright by me. If you take me too.
Chicken, Lemon and Olive Stew
Serves 4 1 kg or so of chicken thighs with skin on, or chicken pieces or a jointed chicken 2 tablespoons of olive oil 1 large onion cut into fine half moons 2 garlic cloves crushed a large thumb sized knob of fresh ginger, finely grated 1 teaspoon ground cumin 1 teaspoon ground tumeric 1/4 teaspoon ground cinnamon 1 tablespoon honey 1 pint/half a litre of chicken stock (from a stock pot is fine) half a jar of green olives (pitted or not as to your preference or what is on offer), rinsed 1 preserved lemon fresh coriander, chopped finely   Heat the oil in a large heavy bottomed casserole (my lovely new Creuset pan is perfect) and brown the chicken all over. Remove the chicken from the oil and rest on a plate. Reduce the heat to medium or less and soften the onion for a few minutes. Once the onions are softened, add the dry spices, garlic and ginger and stir until fragrant.  Pour over the chicken stock and with a wooden spoon, rub the bottom of the pan to release the crusted yumminess. Return the chicken to the pan and put on the lid; simmer for 30 minutes. Prepare the lemon by scraping out the sludgy insides and rinsing the rind under a cold tap. Cut the rind into small pieces and add to the pan with the rinsed green olives and the honey. Allow to simmer for 15-20 minutes with the lid off. Taste and adjust the seasoning if required (will probably not need salt due to the lemon and olives). Serve over couscous.