There really is a hole in my body that can only be filled by a gooey, sticky pastry and the baklava hits the spot. Whether it is for mid morning coffee, a post lunch pick me up, an easy desert or post dinner coffee petit four. Considering how expensive it is to buy ready made, it is ridiculously easy to make but everyone will think you spent hours in the kitchen. And you can customise it to your own tastes – less syrup, more spice, different nuts etc. Give it a whirl.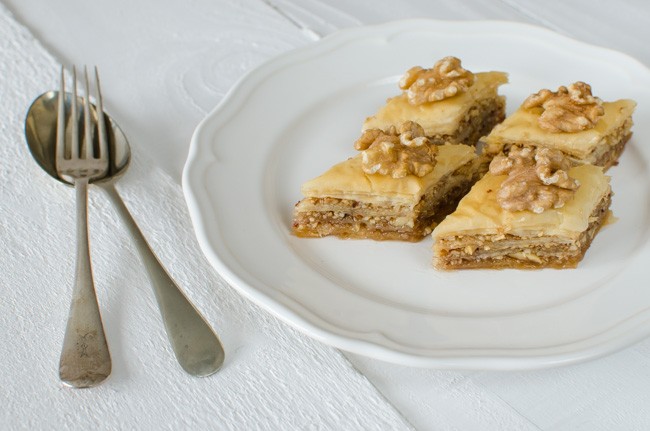 Baklava
150-200g unsalted or slightly salted butter, melted in small amounts (in microwave is the easiest way) 1 pack of fine filo sheets (16 sheets or 200g)   Filling 350-400g roughly chopped nuts with some ground finer (mainly walnuts plus almonds, hazelnuts etc but no peanuts) 1 tsp ground cinnamon 1 tsp ground mixed spice 60g caster sugar   Syrup 300ml water 360g caster sugar 100ml sweet sherry 3-5 whole cloves 1 stick cinnamon broken up zest of an orange 2 tablespoon clear honey 3 tsp lemon juice options – orange blossom water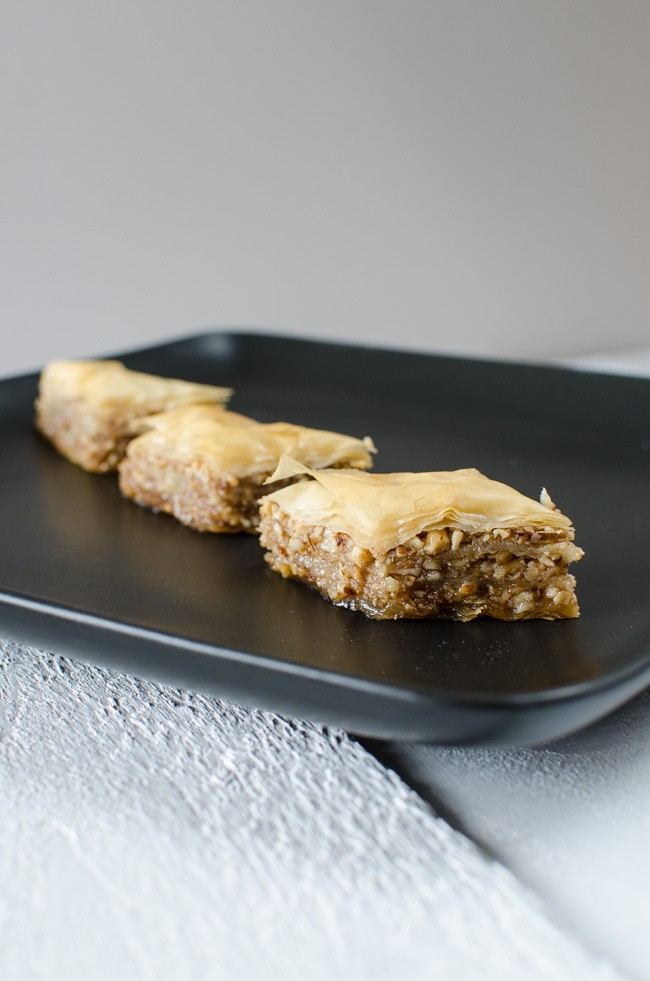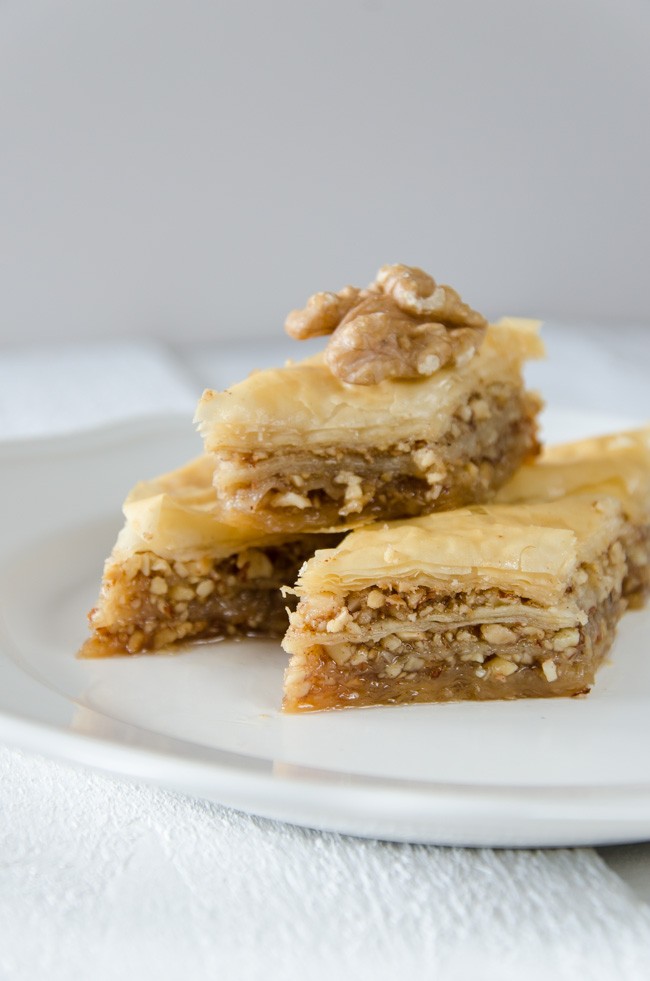 Preheat the oven to 180 ºC/fan 160 ºC. Brush the sides and base of a baking tin about 18 x 25 x 5cm in size with melted butter. Make the filling by combining the filling ingredients in a large bowl and then dividing into 3 equal lots. Spread the filo pastry on a board or tray and cover with a slightly dampened clean tea towel to stop it drying out. Butter sheets of the pastry and fold into the base of the baking tin to use about 4 sheets. Sprinkle over a one third portion of filling and level off so even coverage over the pastry. Put in the next set of folded buttered filo pastry and filling and repeat this process, finishing with pastry on the top, well buttered. Cut into slices while in the tray before cooking with a sharp knife – square or diamond shapes. Bake in the preheated oven for 30-45 minutes until a dismantled slice is cooked all the way through. While the baklava is cooking, make the syrup by combining all the syrup ingredients in a pan, stir until the sugar is dissolved then bring to the boil. Reduce the heat under the pan so it simmers and simmer for 15 minutes. Leave to cool. When the pastry comes out of the oven, strain over the syrup until you can just see the syrup coming up to near the top of the pastry. Leave to cool entirely in the tin. Store in an airtight container and it will last up to a week – if you can resist that long!