This recipe is dedicated to my American and German friends and now I'll explain why. 'Bund' roughly means gathering in German (please correct me if Google is wrong) so I guess that this traditional ring cake would be to feed a group of people, hopefully friends, so it would be a 'bundkuchen'. An alternative German translation is 'waistband' so probably equally suitable! Bundt is actually the trademarked name given to cast aluminum pans by Nordic Ware made in North America and made popular in the 1950's and 1960's. But bundt cakes seem to have been around longer than that and probably are an evolution of the gugelhopf/kugelhopf, a cake made of yeasted dough and baked in a similar tin. I guess a sponge cake is quicker and easier for most people these days than an enriched yeasted dough. There is no one recipe that defines a bundt cake so it is completely open to interpretation – my ideal. Because a large point of a bundt cake is the molded decoration on the cake (and therefore the cost of the tin), bundt cakes are generally simply decorated with icing sugar or a pour-over glaze.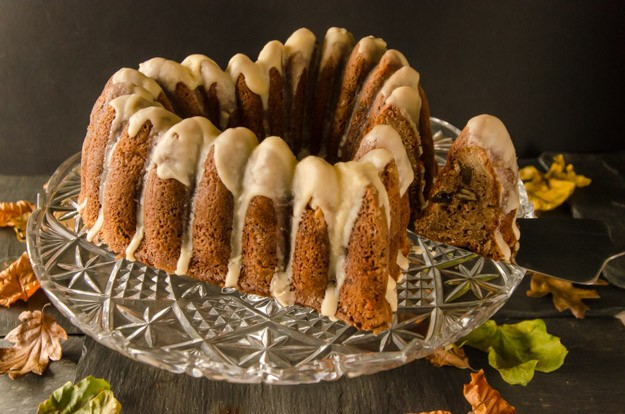 I have been drooling over pretty bundt cakes in bloggerland  for many weeks now. Though just a cake, the distinctive ring shapes with folds and peaks really pulls this cake into another level of sculptural. But I really did not feel like paying £30 plus for one of the ultra pretty Nordic Ware ones. Until I found one half price in TK Maxx this past Friday; I couldn't resist. So cake tin bought, I needed a recipe that would do justice to my new tin. Big problem; all the recipes I could find were in cups and sticks of butter. For a precise chemical reaction such as cake making, inaccurate and annoying American measurements are infuriating. So I made up my own recipe, a sort of amalgamation of several different recipes from the USA which I converted to weight measurements and added some inspiration of my own. I have to admit it worked out well and I will be looking forward to experimenting with my pretty tin again in the future.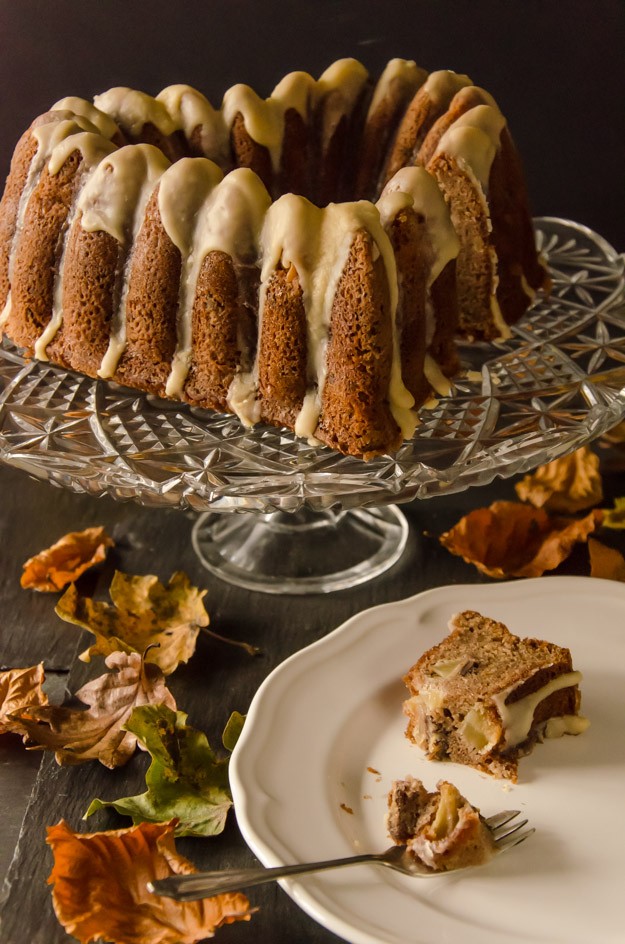 This cake is lovely and moist and looks so impressive sitting on a pretty cake stand with glaze dribbling down the sides. The glaze forms a tasty crust and helps the cake keep longer, as does the addition of ground almonds. I think this would make a perfect Thanksgiving centre piece for those of us who don't like pumpkin pie or who don't live in the USA. Although the recipe list looks extensive, it really isn't. If you haven't got all the spices, try substituting ground mixed spice.
Spiced Apple Bundt Cake with Maple Glaze
  Makes 12-14 servings   225g unsalted butter, soft 150g golden caster sugar 150g soft brown sugar 250g plain flour 75g ground almonds 2 teaspoons baking powder 1 teaspoon bicarbonate of soda 1/2 teaspoon fine salt 1 teaspoon ground ginger 1 teaspoon ground cinnamon 1/4 teaspoon ground cloves 1/4 teaspoon ground allspice 5 medium eggs 200ml natural yogurt 1 teaspoon vanilla extract zest of 1 lemon 30ml or so of milk 3-4 medium apples (about 400-450g), peeled, cored and finely chopped 100g chopped pecans, toasted   For the glaze – 120g icing sugar 30g unsalted butter 50ml maple syrup 1/2 teaspoon vanilla extract   Preheat the oven to 180 ºC/160 ºC fan. Generously grease and flour a 12 cup (1.4 L) bundt tin. My tin is 10 cup capacity so I also greased  four mini loaf tins. In a medium bowl, sift together the dry ingredients except the sugars. In a jug, mix together the yogurt, vanilla extract, eggs and lemon zest until the eggs are well beaten. In another large bowl, cream together the butter and sugars until light and fluffy; you will probably want to use an electric mixer for this. With a large spoon mix in the wet ingredients and then the dry but do not over mix (there should still be streaks of flour). If at this stage the batter is rather dry then add some milk – I needed 30ml.  Add the pecans and apples and mix again until well mixed. Scrape the batter into the prepared bundt tin – it should not be filled more than three quarters full so if you have extra mix then put it in additional tins. Place in the middle of the preheated oven for 45 minutes to an hour; smaller cakes will take proportionally less time (the mini tins took 30 minutes). Allow the cake to cool in the tin for 30 minutes before turning out onto a cooling rack to finish cooling. Meanwhile make the glaze; heat the butter and maple syrup in a small pan until melted and bubbling. Take off the heat and beat in the sugar and then the vanilla. Leave to cool to thicken and pour over the cake once the cake is cold otherwise the icing will just run off.