Being a foodie has it down sides. Apart from the inevitable battle of the bulge (i.e. weight gain, not anything to do with trumpets) and the critical assessment of every meal you eat, you end up with an odd assortment of ingredients lurking in the fridge and cupboards and nothing real to eat on a day to day basis. Or at least I do. After a bit of a cupboard tidy out at the weekend (really to fit in more special buys), I found a tin of chestnut puree (out of date by 6 months) and some tiny jars of homemade marron glacé in syrup (in which the sugar had crystalised – I made them at least 2 years ago). Most of the recipes I searched for required sweetened chestnut puree or marron glacé puree but they sounded too sweet and sickly. So this recipe is a hash up of a couple of different recipes; Nigella in'How to be a Dometic Goddess' and this recipe on someone else's blog. My recipe can easy be made dairy free (see the added notes) and is naturally gluten free, being based on ground almonds and the chestnut puree. It is not calorie or guilt free; it is rich and dense but not overwhelmingly sweet or cloying like some chestnut based recipes can be. It is so moreish and decadent; perfect for this for this time of year. And apparently chestnuts are good for you.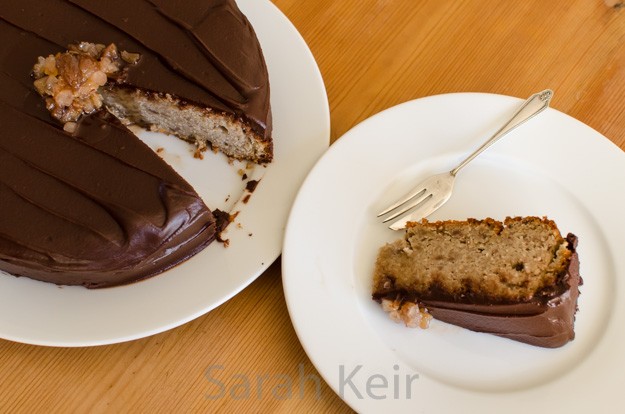 This year I bought my chestnuts from Oxford covered market and they are a complete contrast to the ones in the supermarkets. They are so large, moist and sweet. We roasted them on our sitting rom fire last weekend and the sweet nutty smell filled the house with seasonal joy. I made my own marron glacé a few years ago but I have to say it was not worth the effort, no matter how expensive they are! I did find a small jar of crumbled bits in syrup that I had stashed away and that made a perfect finish for this cake. Feel free to buy them rather than make them; I won't hold it against you. Next time will try adding 250g melted plain chocolate to the mixture, as Nigella has in her recipe. This recipe is very rich and feeds 10-12 easily. It doesn't need cream to counteract any sweetness but some creme fraiché would go well if serving this cake for desert.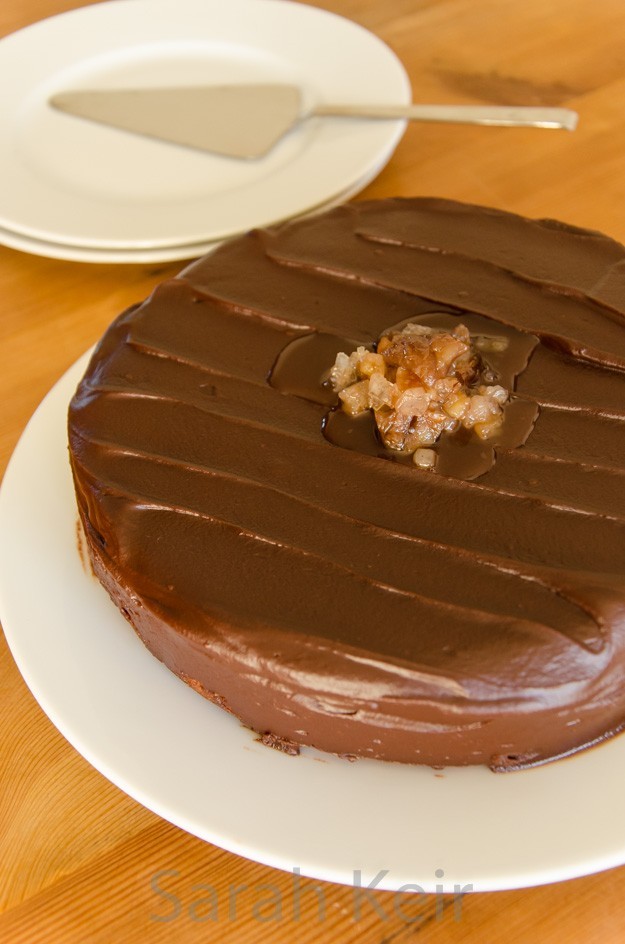 Chestnut and Almond Cake
  4 large eggs, separated 200g caster sugar 100g butter (or replace with 70ml of vegetable oil for vegan version) 200g ground almonds 400g tin of chestnut puree (make sure unsweetened) 1/2 orange, zested 1 teaspoon baking powder 1 teaspoon vanilla extract 1-2 tablespoon honey flavour liqueur or rum or almond milk   For the chocolate covering 200g plain chocolate 1 tablespoon glucose syrup or golden syrup pinch salt 70g butter or 100ml cream or 70g dairy-free margarine   Preheat oven to 180 ºC/160 ºC fan. Line the bottom and grease well a 20cm/8 inch springform tin. Whisk the egg yolks, sugar and vanilla extract together until light in colour and creamy. Add the melted butter – make sure it is only at blood temperature, no hotter. In a bowl, tip the chestnut puree and fork up until smooth paste. Add the chestnut puree, ground almonds, orange zest and baking powder to the egg/sugar bowl and mix well; add the extra liquid as required so mixture not too stiff (it should fall off the spoon easily). In a large clean bowl, whisk the egg whites until stiff peaks form. Add a quarter of these whisked whites to the cake mix and beat to loosen the mixture. Gently fold in the rest of the whites being careful not to knock out too much air. Pour into the tin and place in the middle of the oven. Bake for about 45 minutes to an hour until a skewer comes out clean. Leave to cool entirely in the tin before running a knife around the outside and turning upside down onto a plate. Don't worry if the cake looks dry and cracked – it won't be dry inside. Make the chocolate covering by putting all the ingredients for the covering into a
bain marie
(i.e. a bowl over a gently simmering pan of water), stir until smooth then pour over the cake. You may need to wait 10 minutes or so for the covering to thicken – if it is too thin it will just run off the cake. Allow the covering to set before serving.