Following on from my post about medlars before Christmas, I had a bowlful of medlars left at the beginning of December. It was sort of deliberate as I wanted to experiment a little further using this fruit but was unsure of what to make plus a lack of time. And then I came across a recipe using medlars in a tart and it sounded intriguing. A recipe from 1660 – would it work? Would it translate to modern tastes? So I put some course work lectures on in the background and made this tart.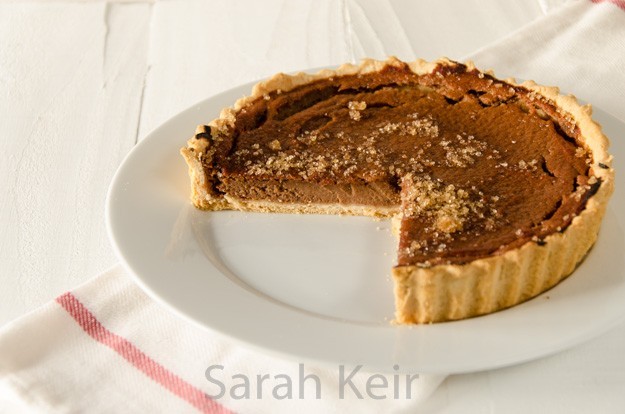 The original recipe is a little lacking in details:
Take medlars that are rotten, strain them, and set them on a chaffing dish of coals, season them with sugar, cinamon and ginger, put some yolks of eggs to them, let it boil a little, and lay it in a cut tart; being baked scrape on sugar.
But luckily Tracey at her Norfolk Kitchen blog had already done some research and testing and came up with this interpretation. And she is right, it is very similar to an American pumpkin pie recipe but so much nicer. Whereas pumpkin is just plain bland, the medlars lend this pie a creamy fruity intenseness which is heightened by the spices rather than being the main event as in pumpkin pie. This pie was delicious to eat at any time of day, warm or cold. Next time I may try adding some orange zest for an extra dimension, though I am not sure this sublime pie needs it.
My ever thoughtful husband bought me a cookery book for my birthday. But not just any cookery book, 'The Compleat City and Country Cook: or Accomplifh'd Housewife', published in 1736. There are some interesting recipes in there that I am going to experiment with when I have time. Finally a recipe for the brace of teal I have in the freezer!
Medlar Pie
8″/20cm loose bottomed tart tin, lined with shortcrust party and blind baked bowl full of medlars (was about 500g or more) 70g caster sugar 3 egg yolks 1 teaspoon mixed spice   Prepare the medlars – stew with a little water until soft and bash up with a potato masher. Push the fruit through a sieve, discarding the skins and seeds, and put the fruit puree in a medium bowl. Beat in the sugar, egg yolks and spice. Taste to see if it requires more sugar or spice. Pour this mixture into the cold blind baked pastry case. Place in the oven preheated to 180 ºC/160 ºC fan and bake for 30-40 minutes until set. Allow to mostly cool before serving with a crunchy topping of demerara sugar.