Sometimes a cake has to made for the sheer beauty of the thing. Don't get me wrong; flavour is still my primary aim but sometimes it is nice to luxuriate in the beauty of a cake before devouring it. And this cake has it in spades. The delicate pink icing and filling contrasting with the dark brown moist cake and the cherries on the top. Like a cute black forest gateau.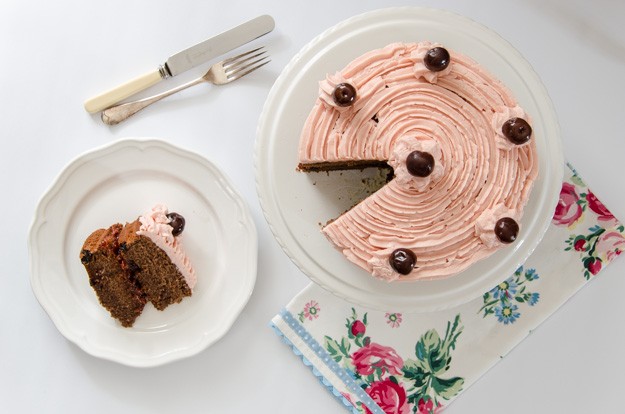 'I wandered hungry and alone
Downstairs to the kitchen
Where upon I came across
A recipe for a cherry chocolate cake.
It was baked and made and iced
And I drowned in the beauty of the cake I beheld.'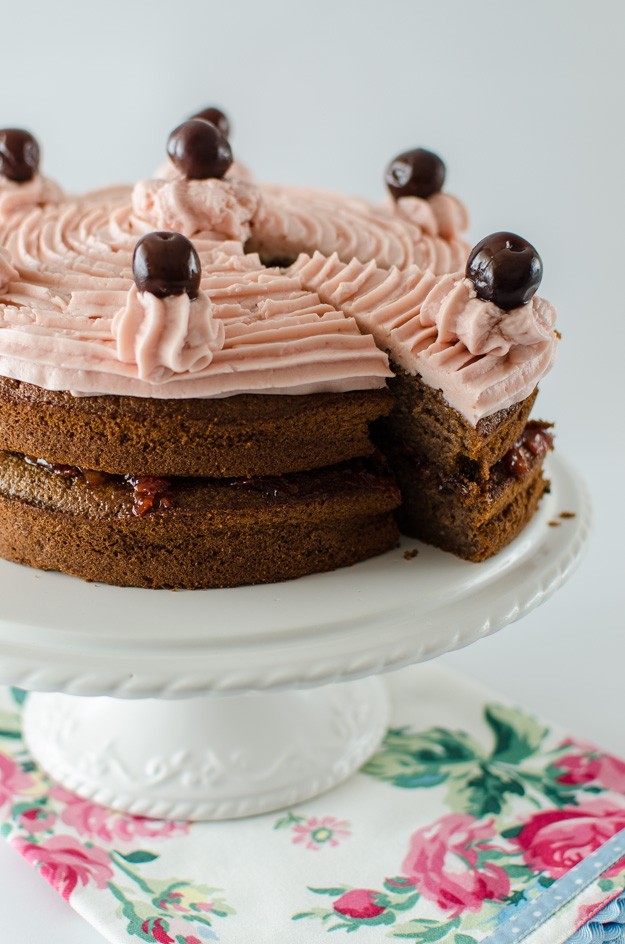 Chocolate Cherry Cake
225g butter at room temperature
225g caster suagr
175g plain flour
50g cocoa powder
2 teaspoons baking powder
1/2 teaspoon fine salt
5 medium eggs
200ml greek yogurt or cream or buttermilk
1 teaspoon vanilla extract
Handful (about 50g) of sour dried cherries
Cherry jam, preferably sour cherry
Swiss meringue buttercream (recipe here), add some cherry puree made from blended frozen cherries
Cherries in alcohol for decorating, reserving some of the syrup/alcohol.
Preheat the oven to 180 ºC/160 ºC fan. Grease and line the base of two 20cm/8″ sponge tins.
Beat together the butter and sugar until creamed well. Sift over the dry ingredients. Beat together the wet ingredients to break up the eggs then add this to the bowl. Beat all together until well mixed, scraping down the sides of the bowl a few times. Fold in the dried cherries and then pour the batter into the prepared tins, trying to divide it equally.
Cook for 30-35 minutes until a skewer comes out clean. While the cakes are cooking, make a cherry flavoured syrup by heating the cherry syrup or alcohol base with some extra sugar to make it syrupy. Allow the cakes to cool for 10 minutes in the tins then brush over this syrup. After half an hour, take the cakes out of the tins and allow to cool fully on cooling wracks.
Assemble the cake with some cherry jam as the filling and pipe the pink tinged buttercream on top. Decorate with the reserved preserved cherries, or fresh cherries if they are in season.