I love how food can transport us around the world in one dish and we are privileged in this country to have access to so many different cuisines. Some people lament the lack of decent British cooking (which is something else that is not true, but a discussion for another time) but why worry when one night I can eat in India, the next in Mexico, the next in France, then Italy, China or Thailand. So partially my cooking is a way of satisfying my wanderlust without crossing continents and bankrupting us. I travel in my kitchen each time I cook.
Cullen skink (no, it is not a typo) is a traditional Scottish soup.  It is hearty enough to be an entire meal, served with some crusty bread. The last time I had it when it was not homemade was in Seattle where it is called a 'Chowder' and sprinkled with dry water crackers like you would have with cheese. The American version also contains sweetcorn but is otherwise the same dish. You must use good quality smoked haddock that is naturally smoked, not the bright yellow stuff.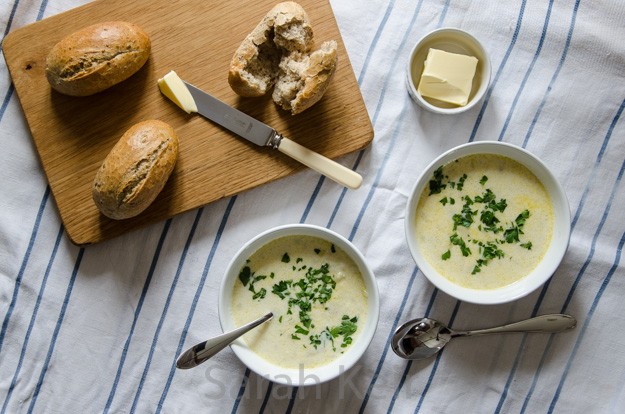 Cullen Skink
25g butter
1 onion, finely chopped
1 bay leaf
1 blade of mace
600ml/1 pint of milk
100ml double cream
350g floury type potato such as maris piper, cut into large chunks
450g undyed smoked haddock
can of sweetcorn, drained (optional)
Melt the butter in a heavy bottomed large saucepan. Add the onions and a pinch of salt; sweat until the onions are translucent.
Add the milk, 300ml water and the bay leaf and mace. Add the potatoes, bring to the boil and simmer for 15 minutes until the potatoes are soft.
Meanwhile cook the smoked haddock. I usually poach it in a water/milk mixture and then add the liquid to the soup for more flavour. Allow the haddock to cool enough to touch and then remove skin and bones and break into large flakes.
Remove the bay leaf and mace from the soup, use a potato masher to gently crush the potatoes so that some thicken the soup but some are still in chunks. Add the cream and sweetcorn if using and the fish. Heat again to the boil and taste, adjusting the seasoning as desired. Serve immediately or allow to cool and store in the fridge for up to 48 hours.