Whenever I make this soup, the colourful bowlful and cheery flavours brightens up the dampest of wet winter days. Saying that though, I can tell spring is close now; the dawn chorus has returned, it is just about light when I get up, the sun has some warmth in it when it is out from behind a cloud and little shoots are appearing in the garden and on our walks. I suppose we should be grateful for living on the top of a hill and not in a flood, but the incessant mud and grey skies are very soul draining.
I have never eaten a soup of this style in Asia and I am not sure it could ever be called an 'authentic' Asian recipe, whatever that may mean, but the flavours of that part of the world are in this soup and the cheerful colour reminds me of the sunnier latitudes. I hope it cheers up your winter days too.
This recipe is adapted from Hugh Fearnley-Whittingstall's 'River Cottage Everyday'. I think cutting up raw squash is asking for an injury; sharp knife and a round, moving and very hard object do not make a good combination. In this recipe I get round that problem by roasting the squash whole first so it is meltingly tender and easy to prepare. I usually do this when the oven is on for something else, for example our evening meal, to save energy.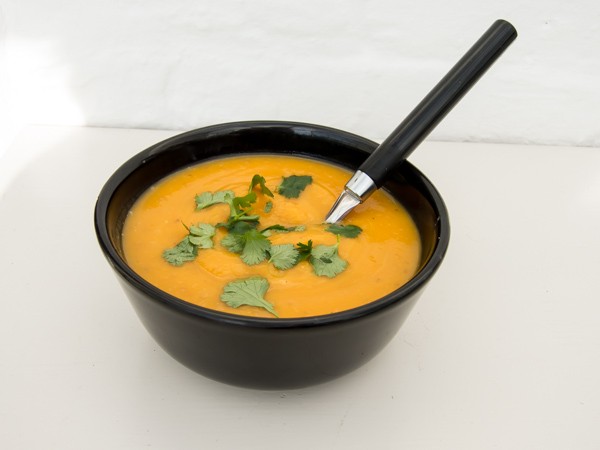 Asian-style Butternut Squash Soup
1 butternut squash, medium sized 1 large onion, finely chopped 1 tablespoon of vegetable oil 1/2 teaspoon ready chili in vinegar or a small medium hot fresh chili knob/thumb sized amount of fresh ginger, finely grated 1 garlic clove, chopped about 1 litre of vegetable stock (from a cube/pot is fine) 2 tablespoons of peanut butter juice of a lime To Serve – fresh coriander, toasted seeds   Place the butternut squash on a baking tray, stab a few times with a sharp knife and place in a medium to hot oven for 30 minutes to maximum 45 minutes until it is soft all the way through when you insert a sharp knife. Allow the butternut squash to cool sufficiently to handle; this takes about an hour at room temperature. Scrape the flesh of the squash into a bowl using a large spoon or your clean hands, discarding the skin (unless you want to add that for extra fibre) and seeds with the fibres (unless you want to wash the fibres off the seeds and roast them for the topping – too much hassle for me). Heat the oil in a large saucepan and then add the onion and a pinch of salt (the salt stops the onion catching); cook until the onion is soft, sweet and translucent. Add the chili, ginger and garlic and stir for a minute or two until fragrant. Add the reserved butternut squash and enough stock to cover the squash. Cover, bring to the boil and simmer for about 15 minutes to meld the flavours. Add the peanut butter and lime juice, stir until the peanut butter has melted. Blend the soup with a hand blender or in a blender. Taste the soup and adjust the seasoning as required. Serve!