After watching 'The Great British Bake Off' and lamenting the end of the current series, I decided to challenge myself to make something something from the series that I hadn't attempted before. My husband always chuckles at me when we watch GGBO because I tend to make comments like 'that's wrong', 'that's going to fail', 'I wouldn't do it like that' etc. However I don't think anyone in the real world would make their own filo pastry – that is what machines with big rollers are for! On our honeymoon on Crete we did watch an eighty-odd year old man make and stretch filo pastry by hand over a huge wooden table in his bakery and it was a joy to behold. Anyone else though, just go to the supermarket!
But back to the task in hand, in other words the Swiss roll. I have to admit that even I, a keen baker, has never made a Swiss roll before. Why, when Marks and Spencer make a perfectly good one in all yummy flavours. Well, I can tell you now (after the cake is made and entirely eaten) that homemade always tastes best; soft, moist and no nasty chemicals to make it stay that way for multiple weeks on a supermarket shelf! Have a go yourself.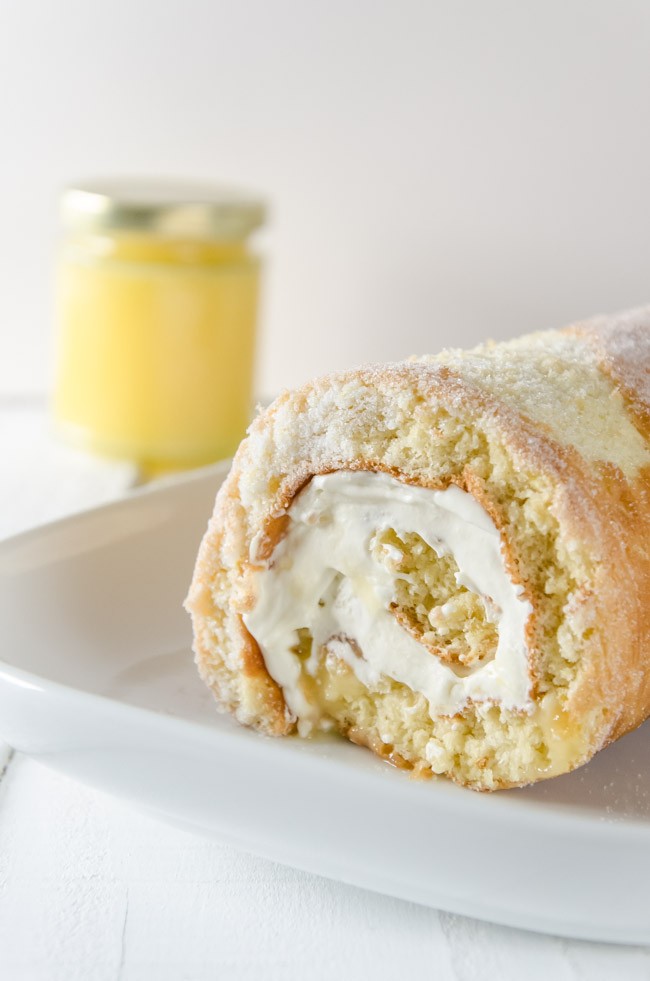 This recipe is from 'Merry Berry's Ultimate Cake Book' from BBC books. It worked great and I achieved that nice tight spiral – Mary Berry would be proud! Only thing wrong is that it stuck to the parchment paper as it cooled, despite generous liberations of caster sugar, so the skin partially peeled off. I fear I would of been marked down because of that.
Swiss Roll
Makes one Swiss roll – feeds 6-8 5 medium eggs (weight 250g minimum) at room temperature 100g caster sugar finely grated rind of 1 lemon 100g self-raising flour   4 tablespoons lemon curd 100ml soft whipped double cream   Preheat the oven to 220 ºC/fan 200 ºC. Line a 33 x 23 cm Swiss roll tin (I used a roasting tin of the same measurements) with baking parchment. Whisk the eggs, sugar and lemon rind in a large bowl until the ribbon stage (took me about 10 minutes with my hand mixer). Sift over the flour and then carefully fold in . Pour the mixture into the prepared tin and tip the tin so that the cake mix is evenly spread and reaches the corners. Bake in the preheated oven for about 10 minutes until the sponge is light golden in colour and beginning to shrink away from the edges of the tin, but be careful not to overcook otherwise it will dry out ande be impossible to roll. Place a piece of baking parchment a little bigger than the size of the tin on the work top over a tea towel. Sprinkle the paper with caster sugar. Invert the cake on to the paper while still warm, remove the paper it was baked in,  trim off the edges (a cooks perk – you get to taste it first) and score a mark 2 cm from the shorter edge, but do not cut all the way through. Roll up the cake firmly from the cut end and leave to cool rolled up. Only fill when completely cool. Unroll, spread with the lemon curd then the cream and roll up tightly again. Sit on the serving dish with the seam side downwards.